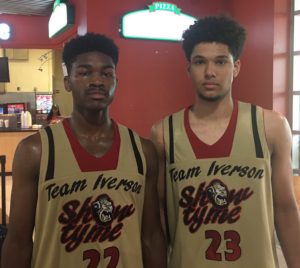 The Dallas Mustang Classic is one of three local grassroot program based events that we (TBB) make an attempt to not miss.  I (Alan Branch) as longtime grassroots basketball advocate wish that the big three or four could come together on 3-4 solid dates to be inclusive of full field of area prospects.  This would create a incredible evaluation environment that the kids would truly benefit from.  Meanwhile the Dallas Mustangs Classic had competitive windows that quench the thirst of services/media entities
Vincent Lee, 2018 PF – Lone Star Elite: Lee had a double-double vs Dallas Showtyme on Sunday and he played hard on both ends. Lee is making a name for himself as a prospect.
JyDonn Griffith, 2018 PF – Lone Star Elite: Griffith was effective on the glass and defensively  blocking and altering shots. Griffith has consistently played well all weekend and also has in the past month.
Addison Wallace, 2018 PG – Lone Star Elite: Wallace is primed to have a big July. The guard scored off the bounce and facilitated the ball well and was huge in the second half against Showtyme, contributing to the last 8 points before OT.
Jase Townsend, 2018 PG – Dallas Mustangs: Townsend was on fire in the championship game as he scored 25 points with 15 coming in the first half. Townsend play was efficient as he got to his spots.
Devin Mitchell, 2018 PF – Dallas Mustangs: Mitchell competed and made plays on both ends. He shot the ball well and showcased defensive versatility.
Lamar Everd, 2018 SG – Dallas Mustangs: Everd had one of the most impressive showings this past weekend as he scored, facilitate and defended well. Had some highlight plays and was influential in Mustangs success this tournament.
Brendan Obineke, 2018 PF – Dallas Mustangs: Obineke length stands out and he used it to his advantage at the Mustangs Invitational. Made mid-range jumpers and rebounded well on both ends.
Jordan Phillips, 2018 SF – Dallas Showtyme: One game that stood out was Phillips game against Lone Star Elite as he took control of the game and got to the lane for a layup or drew a foul. Phillips showed why he is a top 10 player in his class in Texas.
Calvashawn Darthard, 2018 SG -Dallas Showtyme: Darthard showed his defensive abilities as he moved laterally and was active. Darthard also had solid offensive outings as he played his role and averaged about 9 points.
Grayson Carter, 2018 PF – Dallas Showtyme: Carter continued to show his inside and out game. Averaged a double-double this weekend and made clutch shots.
Matt Garigga, 2018 SG – Dallas Showtyme: Garriga shot the ball at a good percentage and did a good getting in position to make a play. Garriga is a player that we have been impressed with in the past two months and think the next live period will be good for him.
Donte Houston, 2020 PF – ProSkills: A long forward that can score off the dribble. Houston  made big plays late in games and is a prospect we will keep an eye on.
Sam Freeman, 2019 F – 3D-Wolverines: Freeman didn't consistently get in a rhythm but he blocked shots and ran the floor well as he averaged a little over 2 blocks a game this weekend.
Max Abmas, 2019 G – 3D – Wolverines: Abmas can get hot quick and he showed that this weekend. He had a solid game against Peak Performance Pacers and on Saturday shot the ball over 45% from the field.
Sterling Hopkins, 2019 PG – Dallas Mustangs 16U: Hopkins managed the game well for his Mustangs squad and scored inside and out. Hopkins averaged about 6 assists a game on Sunday, leading his team to the championship game.
John Pereira, 2019 PF – Dallas Mustangs 16U: Pereira on Saturday had one of the best performances we've seen from him but couldn't get in a rhythm on Sunday but Pereira showed what type of player can become.
Jarred Fields,  2018 PG – CYM: Fields had a strong showing this weekend as he scored and got his teammates involved. Fields shot at a high percentage on Sunday and made big plays for his CYM squad.
Kobe Jones, 2020 PG – Court of Dreams: Jones did a good job playing up and scoring off the dribble. Seen improved play from at the point guard. and scored in double figures in the games we got to watch him play.
Joshua King'Walker, 2020 PF – Texas Warriors: King'Walker showed versatility on both ends and filled the stat sheet in his Sunday morning games.