The story of the day was the team effort of Texas Impact.  The DFW metroplex based group coached by Terry Thomas got wins over the talented Lone Star Elite (DFW) and YES 2 Success Select (San Antonio) led by #1 2019 Charles Bassey.  We watched 12 games closely while gazing next court over to take in another 4-6 which made for good days work. I was very impressed with the 2021 BMM team playing in the 17U/NBA division where they competed consistently to get a win and a competitive loss.  This type of showing will do them well when we go to the 2021 board for initial top 25 2021 in September 2017.
Kaden Archie  6'7″  2018  Wing Urban DFW Elite:  Kaden (#5 TBB) was the most domiant player on my plate for day one.  His Jimmy Butler type approach toward the game makes the long athletic 6'7″ wing affect the game from one end to the other.  Although I would love to see he and (Butler) shoot it better but positive production is a good thing.  Archie just makes plays by any means necessary always improving his team's chances of winning. Urban DFW Elite got two big margin wins day one in a not so competitive environment.
Grant Sherfield  6'1″ 2019 PG  YG36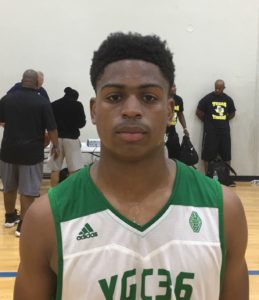 Every time I see this kid he answers the bell.  Today was no different while he was having good shooting day from both the arc and mid range.
He didn't ever get all of his guys going but did enough to get a win with numbers on the score board.  He will have to do more as the weekend goes to get to the thick of the championship.  We all know the high major prospect is talented and at the top of his class.  I am excited to see the remainder of the weekend how uses his ability to get paint touches at will to push his team through bracket play.
Samuel Williamson  6'6″  2019  Wing   Texas Impact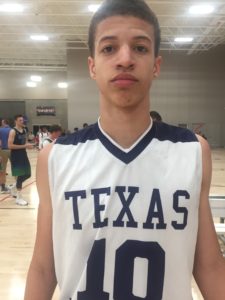 Samuel is still difficult for some to swallow but in my experiences, I have seen this picture before and I like where I think it is going.  It is a lot like the first time I saw Sam in August 2015 at the Cream of the Crop Camp (Duncanville, TX).  He just has a feel for detail and energy which yields productivity with very little error. This weekend was no different with his team mentioned earlier doing well in two of the most competitive games of the day. It helps that he plays with one of the purest point guards in Texas  Xavier Bryant 5'11" 2018  PG  Bryant is learning how to lead and secure from the neck up. His ability to disrupt his opponent's offense and get in to the opposing team's defense at will provides  opportunities for the Texas Impact group.
Addison Wallace  6'31/2″  2018 1/2 Combo  Lone Star Elite 
Wallace is another smart worker, staying about the business of diligently seeking the best opportunities for his team with his strong shoulders and high IQ.  He has made a point in the 20-25 games I have watched the Cleburne native  to show that he was the toughest player on the court. The full time ball guard could be another one emerging from shadows of the over populated player state of Texas. I am looking forward to watching how he the 0-2 Lone Star Elite group bounce back after after a tough day one.
We have identified 25 plus notable players for this weekends watch list and found three new sightings like 6'7″ 2019 J B Mukebi Southwest Elite. We will be back tomorrow on this long holiday weekend with more basketball and hopefully players.
By: AB