The Cowtown Tip-Off Classic has arrived to find there place on the calendar of top 10 high school basketball events in Texas. If a fan, college coach or media/scouting service was looking for prospects, North Crowley was the place to be. Let's also look at the face that this event was the first time the shot clock was implemented at a UIL game (prospects vs the masses). Is it right or wrong for TX is the question.
Friday night was opening night/short night for the Cowtown Tip-Off Classic but the stage and performance was up to par with 2019 Drew Timme a 6'9″ power forward that ranks top 5 at TBB in the state.  Drew opened up for a star studded Saturday on Friday by turning in the top performance of the weekend 37pts/21rbs/8ast.  I knew it would be hard to top this but he is one top 10 prospects in Texas regardless of class. Timme showed the most valued attribute in 21st century basketball "versatility" that maintains through his activity, IQ and mindset. There is not a more recruitable prospect in Texas regardless of class.  There are Power 5 conferences full of programs that would take Timme and continues to show why.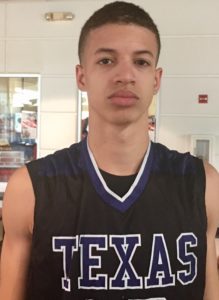 Rockwall HS 2019 Samuel Williamson 6'7″ SG was in the other gym (Crowley HS) where we were informed by (Texas Impact Staff) that he delivered a 24pt/14rb/4ast performance.  Sam is a top 10 player with multiple power 5 conference offers.  He reportedly showed his usual balanced high IQ game. Sam's willingness to rebound has obviously improved which potentially develops him into an impact guy.
The Elephant in the gym was the 30 second shot clock.  There were many debates amongst credible and un-credible individuals leading up to Friday's Cowtown Tip-Off.  The one fact that came out of this trial/experiment was that it is a doable piece and the game could be better for it.  There were three shot clock violations and four operator mistakes (watching the game and not restarting the clock on the change of possession)  in the ten games I watched at North Crowley high school. The two major arguments can it be staff and does hurt the less talented teams. I (Alan Branch) knows that it presents a additional learning curve for college freshmen.