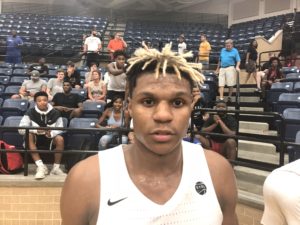 The Main Floor at Mansfield Legacy has been loaded with talent and college coaches. Thursday's action included a headlined match-up between two of the premier grassroots programs in Texas with Texas Hardwork going toe to toe against Drive Nation. Will Baker or Drew Timme; who won the matchup? Jared Garcia comes back to Texas and a lot more content ahead.
The Matchup
This wasn't just a battle between two of the top big men the state has to offer, 2019 Will Baker and Drew Timme are considered two of the best big men prospects in the country. Timme of Drive Nation from the beginning had his eyes zeroed in at the rim, orchestrated moves on top of moves on the block to generate a clean look. Baker of Texas Hardwork answered back with finishes around the rim, albeit not making shots from deep that he is accustomed to executing. When Timme scored, Baker would answer back with an assist or a bucket of his own. When Will gained momentum, Timme would power his way to the cup and shift the tide towards his direction. Drew finished with 16 points as we counted 9 rebounds and Baker strung together a near double-double himself with 12 points, 8 rebounds and 3 assists.
The Verdict: Performance wise I give the slight edge to Timme due to his efficiency from the field but when comparing prospects it's more of a preference of what someone likes more than who is better. Both are highly skilled as Drew is better on the block offensively and plays with a little more of an edge but Baker, who is solid in the post, has a great feel, handles it and contains a smooth looking jumper that he regularly connects at a high clip from deep.
Jared Garcia Comes Back To Texas
2019 Jared Garcia, who originally attended Cypress Lakes (TX) during his freshman campaign is a student at St. Thomas More in Connecticut. Garcia, who was playing for grassroots programs up north, has decided to finish out his final summer season back home with the Houston Defenders. It's been over two years since we have seen Jared and his game has gotten better since we saw him as a pup at Cy Lakes. He is a bowling bowl as he drives inside, his jumper has improved and on Thursday, Garcia strung together two solid performances and he will see his name on the TBB rankings going into the fall.
Evan Anderson's Shines At The Main Floor
I enjoy watching the Hebron product play as there has been a maturation of his game in the past 12 months. Evan Anderson has always been able to really shoot the basketball but his decision making his made leaps towards the right direction. Anderson was a major key in 3D Empire's win in the night cap game vs Houston Defenders.
Performers
Jahmius Jamsey, 2019 Guard – Drive Nation: Ramsey had a quiet first half against Texas Hardwork but orchestrated a strong second half for Drive Nation, scoring 12 points and pushing the momentum towards his team with an emphatic jam late in the second half.
Micah Peavy, 2020 Wing – Texas Hardwork: Peavy showed he belongs amongst the top tier in his class with his performance on Thursday. He managed to put together a 14 point outing but one play that still stays in my memory bank was him following up his own miss and throwing it down in traffic.
Max Abmas, 2019 PG -3D Empire: When 3D Sports were down early and by a good amount on Thursday, Abmas stayed poise and led his team to victory against TJ Ford – Austin: Abmas made shots, defended and has upped his stock this week.
Josh Davis, 2019 PG – Mudiay Elite: Davis is a tough, talented guard that has been effective offensively at the Main Floor. His play in the past two days has garnered the attention of college coaches and he was influential in Mudiay Elite beating BMM on Thursday.
Zach Taylor, 2019 SG  TJ Ford – Austin: One thing Taylor knows how to do is put that ball through the nets. Taylor made defenders pay when left open and Zach on both days has showcased his scoring abilities the first two days.
Donte Houston, 2020 SF/PF – Lonestar Elite: Houston has been one of the top 2020 performers at the Main Floor and Thursday in Mansfield, showcased his ability to rebound, score inside and out and is a prospect that has also seen a rise in his stock.
Jarius Hicklen, 2019 PG – Crab5 Elite: Hicklen was automatic from deep in Crab5's win vs Mudiay Elite. Jarius knows how to play and the guard out of Desoto continues to impress.
Edited by AB