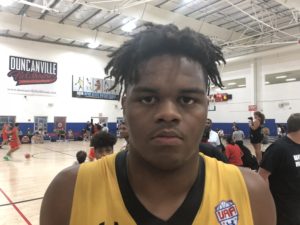 I thought the 100-105 degree Texas heat couldn't be beat this summer but the 110 dry heat in Las Vegas proved me completely wrong. The weather wasn't the only heated element here in Vegas as the match-ups the TBB staff has watch have also been "fire." Prospects from the Lone Star State have stood out in events such as the Las Vegas Center Court presented by Stacy Houston of DJH5 Reports, The Fab 48, Las Vegas Classic and the list continues. Wednesday and Thursday's action was a memorable one as we take a look at our top performers.
Premier 2020 Prospects Made Their Mark
Drive Nation 16U
It was night and day in comparison's to 2020 Cade Cunningham's performances on Wednesday night to Thursday's game. On Wednesday, Cunningham didn't play well, energy wasn't where it needed to be as he never got in a groove. However, he bounced back and orchestrated a very sound performance on Thursday vs New Jersey Playaz. He set up his teammates for open looks as his unselfish play rubbed off on his teammates. Cunningham's versatility and IQ made him a tough cover. The frontcourt of Montreal Pena and Jay Wilson were also impressive as they both played with a lot of energy and looked to punish the rim when the opportunity was present.
Nike ProSkills 16U
2020 Joey Madimba really stood out to me with his hustle and  nose for the basketball. The wing against Woodz Elite produced 21 points. Zaakir Sawyer was also impressive adding  10 points into the equation but also fighting on the glass. Cody  Dean exploded for 25 points and 21 of those points came from the three point line. The Louisiana native couldn't miss from deep and wanted the ball in his hands when the game was getting tight.
Houston Defenders 16U
It's like watching a long boxing match; eventually a lot of body/head shots will wear down an opponent. Well watching  Eddie Lampkin relentlessly throw his big body around in the paint in a 32 minute ball game has the same effect to opposing big men as the physical post for the Houston Defenders was a handful in the paint. Lampkin against the Louisiana Supreme 16U recorded a double-double.  Hayden Hefner played with more aggression on Wednesday, as he was hunting for his shots, playing fast and showcased why he is getting recruited by high end D1 programs.
Texas Titans 16U
Skilled forward Jakobe Coles gets a lot done for the Texas Titans as the 4-man that goes to Denton Guyer connected on shots from deep, racked up a couple of assist and did the little things to effect the outcome of the game. His front-court mate Eduardo Andre was very solid as well as the lefty forward is intriguing with a developing skill-set that the staff is high about. Mike Miles continued to run the show as he executed on scoring opportunities and set the table up for his teammates.
YGC36 2020
Julian Larry is a blur in transition and there wasn't anyone that could stay in front of him on Thursday at the Fab 48. Thailand Wesley game has grown on me and his ability to hunt for rebounds at his position, finish above the rim and knock down shots made him a standout. Nathan Dominick and 2021 Harrison Ingram also provided firm and steady production in YGC36's win.
Team Harden 16U
2022 Bryce Griggs is was very productive for Team Harden, the rising freshman has done a good job all spring and summer taking the lead for the 16U team and we will continue to keep track of this promising prospect. 2020 Deuce Guidry shot it well from deep, he made defenders pay when given space.
Mo Taylor Elite
2020 Isaiah LeBlanc put together a scoring exhibition on Thursday at the Las Vegas Classic. He knocked down 6 Trey balls as he got in a rhythm early. 2020 Jayden Colleymore has a chance to be really good once he figures it out. Athletic, has a good looking jumper and recorded 7 rebounds in the first half for Mo Taylor. 2021 standouts Jerrell Colbert and Jimel Cofer provided plays that stood out to the staff. Colbert, who has a chance to be the top player in his class, had an up and down performance but he is equipped with things you can't teach. Cofer was skying above defenders and was lethal in the open court.
RJ Hampton Produced
Top 2020 prospect RJ Hampton has been efficient at the Center Court. He showcased great range on his jumper as he exudes a lot of confidence when he played. Hampton orchestrated a 20 point outing and his blend of athleticism, size and skill makes him one of the top players in the country.