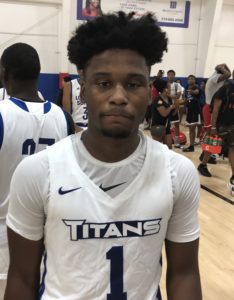 The second and final chapter of my journal, I share more of my thoughts/evaluations/intel/predictions from a memorable 2018 grassroots season. An abundant amount of information coming your way as we look at the Texas Titans' ample amount of front-line prospects, how Cade Cunningham & Greg Brown made a claim for the #1 spot,  and much more when you subscribe.
Lone Star Elite
Darius Coleman's group comes back with a crop of players that caught the staff's attention. 2020 Donte Green carries the tools that college coaches want.
2019 Cody Collinsworth's game didn't grow the way we expected it would this year but he still possess game that translates to D1 level. Cody is a lefty big man with good size and touch. Northwestern State has recently offered – TCU offered last summer and Collinsworth will attend Lindale High School in the Fall.
21's Christian Green and Tay Mosher did a very solid job performing in the 17U level. Christian Green oozes with potential as Mosher's contributes to an array of ways on the floor.
3D Empire
2020's Baylor Hebb and Logan McLoughlin carried the load for the Empire 16U backcourt. Both carry offer from Abilene Christian. Hebb's 43 point outing in July was a sight to see.
2019 Evan Anderson improved as a point guard as the season went. Confident on the ball, sound decision maker and close to receiving first D1 offer
Texas Titans
The Titans field a crop of talented front-line prospects. 2020 Jakobe Coles is savvy, skilled and moves the ball well. Received offer from UNT. 20′ Richard Amaefule is talented – forward that has promising jumper, athletic and versatile defender. Holds offers from TCU & LSU.
20′ Eduardo Andre & Kylon Owens line up the rest of the big man crop the Titans possess. Andre possess an intriguing offensive package  that can continue to be added to. Owens was decent, impactful in spurts – Kylon has the tools to make things happen on a consistent basis.
20' Mike Miles scored at a high level throughout the season. Solidifying himself as a upper echelon guard in the state.
YGC36
2019 Jalen Wilson commits to Michigan. A good fit in Head Coach John Beilein system as we believe he will conduct a strong career with the Wolverines. Another commitment came from 2019 Bryce Cooks (SMU). Cooks suffered leg injury but recovering very well. Cooks maybe small in stature but he's a big time/electrifying player.
20′ Gethro Muscadin rebounds at a high rate. He's active, possess a developing offensive game as the forward that attends Sunrise Christian possess 3 offers (La. Tech, SMU & Wichita State). Has visited TCU – Auburn has shown interest.
2019 Zion Richardson played to his strengths all summer long and he reaped the benefits. LA Tech, Rice, Texas State and Wyoming have been on him the hardest but recruitment is open.
For the 16U group, 2021 Harrison Ingram produced playing up. He can shoot it, contains good ball skills as the St. Marks product nabbed a Baylor offer in the Spring and Houston offer this past week.
I like what I'm seeing from 2020 Thailand Wesley. He plays above the rim, knocks down shots off the catch. We want to see his handle it better but a kid to keep an eye on. Colorado and Michigan have shown interest according to sources.
Drive Nation's 16U
When 2020 Cade Cunningham is on attack mode, he can be a one man wrecking crew. Handles it, strong play-maker that is making an argument as top player in his class.
Continuing with Cunningham, he doesn't talk about schools much –  could see him playing close to home or land in one of the Blue Blood programs.
20′ Montreal Pena does things on the court that we really like. Long, athletic, plays with a motor. Holds TCU & UTEP offer. Oral Roberts and a wide range of schools have shown interest.
Dallas Mustangs
Rising senior DJ Bassey finished the season strong.  Lefty big man that swats shots and is figuring out how to be productive.
2019 Isaiah Range received 1st offer from D2 program Midwestern State. When he doesn't think much and plays, he looks comfortable on the floor.
I left games wanting to see more out of 2019 Jakevan Leftridge. Talented, has good positional size and in the stretches were he made his mind up and took over, looked every bit of a D1 basketball player. Once light bulb stays on, he will be a problem.
Nike ProSkills
2019 Justin Webster has improved as a primary ball handler. Still more comfortable off the ball but possess "Coaches Son Feel." San Diego, Oklahoma, OSU, Tulsa  & Pepperdine have offered.
J'Wan Roberts has been consistently  productive for ProSkills even against the opposing high end D1 big men he has matched up against. Washington State, Houston & Texas A&M have offered in July.
19′ Samazha Hart blew up didn't he? Been high on the kid for a while and is now starting to put it all together. He looks the part and starting to play the part. Renege on SFA verbal early in the season – we will keep a track on recruitment.
Ja'Mare Redus is a tough gritty guard that makes winning plays. Missouri State, ORU, Hofstra and Texas Southern have offered the guard out of Houston.
Houston Defenders
2019 Jared Garcia comes back to the Lone Star State to grace the black and yellow. Strong, scores inside and out; UTSA and UNO are on him heavy – could say those are the top 2 but Garcia is weighing his options according to sources.
2019 Valentin Bilounga excels in his role as a rim protector and rebounder. Feel for the game has improved the more games he's played.
For the 16U, Front-line duo of 2020 Eddie Lampkin and Nathan Clover were a handful as they imposed their will. Lampkin recently received offers from LSU and Wichita State. Texas A&M considered front runners according to sources.
Staying with the 16U, 20′ Hayden Hefner played with more energy.  Hunted for his shots, connected on jumpers on the move. Jalen White was a quiet, efficient contributor. Should garner attention from coaches.
Team Faith
You could make a valid argument for Greg Brown being numero uno in Texas for the 2020 class. He plays above the rim,can impact the game on both ends as he put together a great outing at the NBPA Top 100 Camp. Texas seems to be favorites – could Duke or Kentucky come in later on?
Isaiah Stevens utilized the platform the grassroots season creates. Received first Power 5 offer from Mississippi State. Could he be headed to Starkville?
2019 Baylor commit Jordan Turner was solid. Jordan can impact the game in an array of ways when locked in.
2021 PJ Neal held his own on the 16U level. Jumper has come along – guard with feel and plus vision.
Mo Taylor Elite
2021 Jerrel Colbert is considered the top player in his class. Tall with freakish length and ability. Colbert can be as good as he wants to be.
20′ Isaiah LeBlanc shot the ball very well in the last two weekends of the July Viewing Period. Exudes confidence, playing to his strengths.
21′ Jimel Cofer has a high upside. Athletic, gets downhill and crashes the glass.
2020 Jayden Colleymore is spurty (If that's even a word) but in flashes he showcases his ability to contribute in many ways. Hasn't put all the pieces together yet.
Cooz Elite
2019 PJ Henry is a natural when it comes to scoring the basketball. Picked up Hartford and Longwood offer in July.
19′ Mykell Robinson is another talented prospect for the 17U Cooz Elite squad. Excels as a slasher – Denver and Longwood have offered him.
On the 16U team,  2020 Jahari Long showcased he is one of the top guards in his class and there is more to his game that hasn't been unlocked yet. I Like when he is more aggressive with the ball as Jahari has collected offers from Minnesota (Where he will take a visit this month), Rice, College of Charleston, VCU, La Tech & Wichita State.
20′ Ruben Jones is another player that has been very solid in the Spring/Summer. Athletic, plays above the rim and a underrated ball-handler.
Basketball University
Texas A&M commit Sahvir Wheeler was the top Texas Performer at the NBPA Top 100 Camp. Plays fast, pesky defender and won't get stopped of getting to where he wants on the floor.
20′ LJ Cryer has seen his stock raise. Showcased elements of his game with the ball on his hands that impressed the staff.
Baylor, LSU, Houston, OSU and a couple more are high on Cryer's list according to source.
Stackz Elite
2019 Jesse Zarzuela's recruitment blew up in July. La Tech, Denver, San Diego and several more have offered  Jesse.
19′ Joe Rollins is a very steady guard. Sound decision maker and could see him in Pacific playing for Head Coach Damon Stoudemire.
Crab5
19′ Jarius Hicklin is primed for a big season for Desoto. He scored with efficiency – received Oklahoma Baptist offer. Should see bump in recruitment.
2020 Austin Brewer is on the trail of figuring it out. More skilled than given credit – still has ways to go but a promising prospect.
Edited by AB