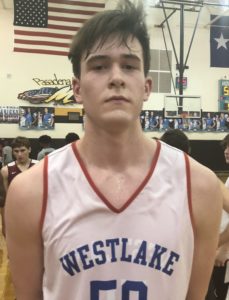 The Texasboysbasketball.com staff drank their coffee, hopped in the car at 5am and drove down I45 South to catch a several prospects in Houston this  past Saturday. How good did 2019 Jordyn Adams look this weekend? Who is in pursuit of 2019 Devon McCain? We have the answers here as we evaluate our time in the Bayou City.
Will Baker, Darius McBride Combo For Austin Westlake
Westlake graduated three division one players from a year ago as Keonte Kennedy (Xavier), Brock Cunningham (Texas) and Matthew Mayer (Baylor) are onto the next chapters of their basketball careers. Returning is 2019 top big man Will Baker as 2019 SMU Commit Darius McBride transferred to be a big time contributor to the process. Baker showcased his fluidity out on the perimeter, mainly operating on the wing this weekend. Texas and UCLA are considered to be in the lead for the talented big man. McBride utilized his strong body and high IQ to make an impact offensively as he exploited mismatches on switches. When these players are clicking, Westlake becomes a tall task for opposing teams.
Sam Rayburn
There were an abundance of eyes capturing Sam Rayburn mann the court on Saturday. With top 2021 prospects Jerelle Colbert, Keon Edwards and top 30 2020 guard  Jalen White participating – it makes sense as to why. Colbert has ways to go but we loved the energy he brought. Crashing for offensive rebounds, changing shots at the rim and finishing in the paint with powerful dunks. Edwards was solid. He was up and down at Pasadena but he displayed in flashes how dynamic of a play-maker he can be. White provided steady offensive production, always ready to shoot the ball and make sound decisions with the ball.
Silsbee's Trio
The Silsbee Tigers, who are back to back 4A State Champions have the opportunity this season to achieve a rare feat and that would be to three-peat. Their "Big 3" of 2020 Braelon Bush, 2019's Devon McCain and Jordyn Adams led the charge as the Tigers went 2-0 on Saturday. Bush was a headache for opposing guards, nabbing steals in the backcourt and connecting on shots from deep. McCain is an intense competitor that relentlessy attacked the basket. He executed on and-1 opportunities and took the role as the primary ball-handler. He plans to take official visits to Austin Peay, New Orleans and SFA in October as he told the staff that he will make a verbal commitment after he takes all of his visits. Adams in our eyes was the top performer from this Saturday at Pasadena, as he shot the lights out from deep, displayed a tighter handle and was a legitimate scoring threat off the dribble. He will take an official visit to Austin Peay on October 7 and Adams plans to take an official to Longwood in October as well.
Standouts
Javonne Lowery, 2019 SG – Pearland High School: Lowery is relied as a playmaker for Pearland and he did a very solid job scoring off the dribble and hitting shots from deep. He will take an official visit to Arkansas Little Rock and Louisiana-Lafayette.
Damon Gentry Jr. 2021 PG – Fort Worth OD Wyatt: Gentry was electrifying in his matchup against Sam Rayburn. Despite losing, Damon took the reigns at point and powered OD Wyatt back into the game after trailing by as much as 20 in the first half. Gentry got to his spots, made strong decisions with the ball and locked in defensively.
Amaree Abrams, 2022 SG – Port Arthur Memorial: The only 2022 that stood out to the staff this weekend in Houston was Amaree Abrams. He played his role well as he was in the mix for 50-50 balls, knock down shots from the perimeter and finished in the paint.
Nathan Clover, 2020 PF/C – Port Arthur Memorial: Clover was a handful in the paint. He utilized his strong body to muscle his way on the block as he strung together back to back double-double outings.
Kaleb Stewart, 2021 PG – Crosby: Stewart has stayed on the TBB staff's radar since we watched him play last school season at the McDonald's Invitational. Stewart this Saturday strung together impressive scoring outings as he led Crosby to a 2-1 record this weekend.
Zachary Iyeyemi, 2019 PF/C – Cy-Fair: The staff saw Iyeyemi put together a solid double-double outing in the morning. Zachary will take an official visit to McNeese on October 7th, Will also take an ov to Coastal Carolina in October as well as one to Denver. He told the staff his recruitment is still wide open and looking for right fit.
Montavious Murphy, 2019 PF – Concordia Lutheran: The Kansas State commit was a handful inside for Silsbee. Although he fouled out, Montavious was aggressive getting to the cup and the foul line.
RJ Keene, 2021 Wing – Concordia Lutheran: Keene got a lot of things done at the court. Known to be a shooter, but RJ contributes to winning basketball period. Looking to rebound, make hustle plays as well as knocking shots from deep stood out to the staff.
Edited by AB