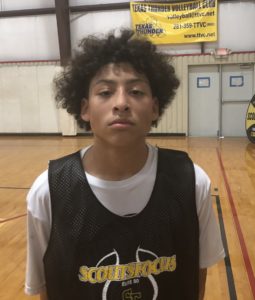 Back to Back weekends in the Clutch City for Texasboysbasketball.com as Scout Focus hosted their annual Elite 80 Camp  at  "The Gym" in Humble, TX. Weekend of mining we found what Alan Branch would say, "Diamonds in The Rough," as we identified a handful of Top 50 TBB Candidates.
Jailan Ardoin, 2022 CG Tekoa Academy: Out of Port Arthur, Jailan displayed a strong scoring package as he accumulated bucket after bucket in the 5 on 5 games. A prospect that will receive more ink in the future at texasboysbasketball.com
Javonne Lowery, 2019 SG – Pearland HS: Lowery was one of the top performers at the camp. Lowery athleticism blended with an improved feel was showcased as he recently had an in-home Visit from Louisiana-Lafayette.
Miles Goodman, 2020 SG – Second Baptist: Goodman had a solid summer playing 17U with Stackz Elite. At the Elite80, Miles is a dangerous outside shooter as he played with an edge about him. 
Cole Kelly, 2021 PF – Friendswood HS: Cole got a lot of stuff done. A forward with a solid skillset, feel and a uncanny ability to finish against length. 
Markel James,  2020 PF – Hightower: A potential late bloomer candidate. couple years from now, people maybe scratching their heads, wondering how James slipped through the cracks. He's still has ways to go in the development process, but he possess an intriguing skillset to go with his size. 
Jacob Duran, 2022 CG – Bridgeland HS: Duran connected on jumpers from deep at the Elite80. A freshman out of the Bayou City that could be a household name with a big school and grassroots season. 
Noah Smith, 2019 PF/C – Dekany: The Burly, fleshy forward arrived on Sunday and imposed his will inside. Nimble, skilled and possess a game that translates at the next level.