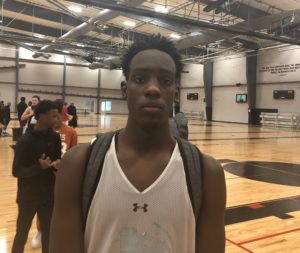 The 9th Annual Lonestar JUCO/Prep Showcase has closed and the TBB staff recollects on the bevy of potential D1 prospects that were on hand at the Drive Nation Facility. We got a good/early evaluation at the JUCO programs from Region XIV and V as well as the abundance of talent that will be competing in 6A TCAL this year. We analyze 12 prospects in the first part of our report as a young prospect from Houston has emerged in our players to watch list.
Nate Lacewell, 2020 SF – Legacy School Of Sports Science: Lacewell is a very intriguing prospect that possesses size and perimeter skill set that popped out to the staff. A top 50 prospect in his class that will surely see a jump in his ranking on the update.
Reyhan Cobb, RS FR. CF – Tyler Junior College: An athletic, mismatch 4 man that sat out last year due to a hand injury. Cobb hasn't put it all together yet but his athleticism mixed with his inside/out skillset was on display this past weekend.
Jonathan Bryant Jr, SO CG – Tyler Junior College: Bryant was a handful for opposing guards. Strong, got downhill and did a solid job running the show for TJC.
Tajzmel Sherman, SO SG – Collin County CC: Sherman is an electric scoring guard and in the morning game against TJC, Tajzmel showcased his ability to score on the move. The Houston native produced a solid performance on Saturday.
Jonathan Aku, 2020 C – Ischool High: Right off the bat, Aku was matched up against a more experienced,  longer post. However, Jonathan more than held his own – winning the battle on the boards and able to score inside. Aku showcased why he is the top big man in the 2020 class.
Rodrigue Andela, FR. PF/C – Kilgore College: Andela is physically imposing and was accumulating near double-double numbers on Saturday. Rodrigue was efficient in his minutes and helped anchor the big Kilgore College frontline.
Arthur Kaluma, 2021 CF – Universal Academy: Kaluma is only a sophomore but his feel and IQ is one of an upperclassman. Kaluma averaged over 14 points a game and generating open looks for his teammates.
Jalen Posey, 2020 PG – Universal Academy: Posey played two games on Friday and was disruptive on the defensive end. Playing the passing the lanes, challenging jumpers – Posey's stock has climbed dramatically in the past 60 days.
Michael Thomas, Post Grad SG – Texas Prep: An athletically gifted guard that finished above the rim in the open court. Talent is there for Thomas as we will see if he can put it all together on a consistent basis.
David Nickelberry, SO. Wing – Forward – Trinity Valley CC: The transfer from Memphis is a tough cover for opposing forwards. He has a good handle, motor and strung together a double-double in each contest.
Larenz Williams, 2019 Wing – Cy Fair Learning Center: An attacking, hardworking wing that flourished in transition. Williams impacted the game on both ends for Cy Fair Learning Center.
Edited by AB