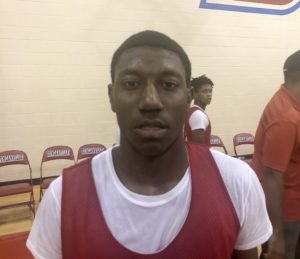 We're over two weeks away until the scholastic season kicks off and we at Texasboysbasketball.com are providing a four part preview of the top prospects in the classifications of 4A, 5A, 6A UIL and 6A TCAL. We will examine over 100 players in this series so stay tune because there is plenty to read for our subscribers in the upcoming days.
Silsbee
Only right to start with the back to back champs as the Tigers return their top three scorers from last year in 2019 Devon McCain, Jordyn Adams (Austin Peay Commit) and 2020 Braelon Bush. McCain carries the duties as the primary ball handler as his bullish play and vision creates match-up problems for opponents. Adams had an compilation of electric performances when the staff saw him in September as he seems more comfortable operating off the bounce and draining contested jumpers. Bush, who's scoring prowess will be on full display can torch the nets in a hurry as he possess great range on his jumper and the ability to get where he wants on the floor.
Dallas Carter
Dallas Carter isn't equipped with much size but 32 minutes against Coach Lyndon Love's group is a tall task to take on. The Cowboys contain a slew of interchangeable players that compete with an unmatchable amount of intensity, energy and speed.  5 come in, 5 come out and nothing glaring changes in regard to production.
The most notable prospect from last year's 4A state runner up is Grambling commit Zahad Munford. Munford, who shepherded the scoring load for Dallas Carter in the final four last year is geared towards having another big season for the Cowboys as he excels in transition and carries a nice scoring package. 2020 Jalen Williams was another standout in our eyes from the team a year ago. A pesky defender who knocks down shots from beyond the arc and plays with confidence.
Pinkston
Last year's record for the Vikings wasn't one 2nd year Head Coach Cedric Griffin would like to recollect on much but with a full season under his belt with his group, things can definitely turn around. One major positive is Pinkston does return SFA commit 2019 Sama'Zha Hart – who exploded onto the recruiting scene with a strong performance in the April Viewing Period. Hart  gathered offers from several Power 5 Programs such as TCU, Oklahoma, Kansas State as he showcased his elite athleticism and ability to knockdown shots from deep.
Forth Worth Dunbar
2019 Jeremiah Keys and 2020 big man Tim Hartman will have big roles to shoulder for the Wildcats. Keys flies up and down the floor as he competes and plays with energy. A big season for Jeremiah will be beneficial for his recruitment as he has the tools but will need to show if he can build a more refined product. Hartman is intriguing, he has good size, length and in spurts when the TBB staff watched him; he impacted the game defensively. We haven't seen Hartman since last school season and we are interested to see how far he has come along since then.
Seminole
Seminole punched their ticket to San Antonio as they reached the Final Four last season.  2020 Jalen Brittain busted out on the scenes with a 20 (points) & 10 (rebounds) double double in the Alamo Dome. Jalen is a physical, traditional post with an interior game that yields results.
Faith Family
It maybe a little too premature to say but the staff believes the freshman duo of Jordan Walsh and Tre Clayton will be primary targets for the Eagles. Walsh, who received and offer from Texas A&M, produces in the open court, utilizes his length to disrupt shots and cover ground defensively as he has all the capabilities of becoming a high-end D1-player. The attribute that stands out about Clayton is his intangibles – He rebounds, wins the 50/50 balls as his attack dog offensive game allows him to score inside.
Houston Yates
Yates will have a different look compared to last year as Jock Hughes and Mitchell Serialle graduated and are  currently rocking the purple and white with Stephen F. Austin. 2020 Rubin Jones is the headlined prospect for the Lions as he holds offers from North Texas and UTEP. Rubin is strong, athletic and has made strides operating as the primary ball-handler. With the pace Yates play, Jones has the chance to generate news worthy stat-lines this season. 2019 Joquarius Valrie is another prospect we will keep tabs on. Valrie is an aggressive wing that welcomes contact and finishes around the rim.
Wilmer Hutchins
A heartbreaking 1 point lost to Dallas Carter last year ended the Eagles season but 2019 Davian Sanders and Jakevan Leftridge will look to lead Wilmer Hutchins to the playoffs once again and make a deep run. Sanders is a speedy guard that probes with the ball in his hands and finds his teammates. Leftridge is a versatile forward that manufactures, handles and delivers in transition.
Dallas Lincoln
Ken Milton is gone to Oral Roberts as this years reigning district champs will look to repeat and march down to San Antonio this time around. 2020 Cameron Johnson will be one of the primary options for the Tigers as the physical guard can score it and stuff the other categories. The staff likes what 2020 Quinntez Grimes brings to the table. He rebounds, capable of defender multiple positions and he has expanded his game.
Burkburnett
2020 Tre'Von Dean is an interior impact player for the Bulldogs as he utilizes his athleticism to rebound and finish strong around the cup.
Dallas Roosevelt
Demarcus Fisher and Zach Thomas are gone but 2019 guard Marquiss Childs returns and can generate points in a flurry. Childs is a shifty, quick and can fill the scoring column up.
Few Notes
We will sit down and take a good look at several teams this year such as Argyle, Estacado, Liberty Hill and a couple others. Each of these schools are ranked in the TABC Pre-Season list.
Region II District 10 possessed 5 teams that eclipsed over 20 wins last season. Although each team lost an reliable piece from a year ago,  the talent is still present and looks to be one of the toughest districts in the state once again.