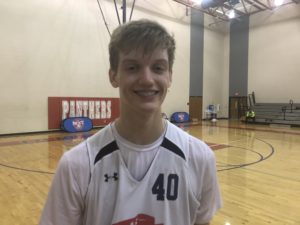 The second part of our  TBB Prospect Preview, we surveyed the mass amount of  potential and definite division 1 prospects that participate in programs that fall into the 5A UIL Classification. One of our breakout candidates comes from Sulphur Springs; In this section, we are breaking down teams ranging from M-Z. A handful of juniors will need to produce big seasons as we analyzed over 50 prospects in this edition. Plenty to read, plenty to digest here at texasboysbasketball.com.
*Note – All rankings mentioned are from the TABC Pre-Season Team Rankings
Manor High School
Manor welcomes 2020 Jamal Shead to their program as the confident guard out of Central Texas holds offers from Drexel, Texas A&M, Colorado State and Texas State. Shead has shown he won't shy from any moment on the court and is the player that can make the Mustangs a contender for a district title.
Mansfield Timberview
Isaac Likeleke is onto the next chapter of his basketball life, currently playing for Oklahoma State. But Mansfield Timberview are equipped with prospects that can step up and rack wins for the Wolves even after taking another blow with 2020 JaQuan Scott transferring. The senior trio of Trezarian White (Air Force commit), point guard CJ Smith and wing Rodrigo Soares pack experience and strong intangibles. White's rebounding instincts, nasty streak and heart he competes with lobbies himself as a double-double candidate on most nights. Smith is capable of stocking the point column as he has made strides as a decision maker. Soares plays methodical, at his own pace and it manufactures production. There are still questions in regards to what level Rodrigo's game translates to but Soares will be given the floor to answer those questions this season.
Milby
Sophomore Will Young, who collected offers from Houston and TCU is the top returning prospect for the Buffs. Young is a strong, steady guard that is armed with an impressive offensive arsenal. The addition of Junior Gerald Doakes by the way of Arkansas will provide a scoring punch due to his ability to generate airspace off the bounce and possessing an innate ability to finish around the cup versus length.
PA Memorial
The reigning state champions graduated three prospects who went on to sign with Lamar State College – Port Arthur and Kenneth Coleman took the Head Coaching job at Humble Summer Creek. Returning is 2020 big man Nathan Clover as he will gain a bigger role with the Titans. Clover is strong, physical interior presence that has made progressions on his post game. The junior post holds offers from Lamar and UTSA.
Pflugerville Connally
The 9th ranked Cougars lost 2020 guard Jamal Shead (as stated earlier in the article) but still contains prospects that can get the job done. Senior backcourt of Kylin Robinson and Tyrone Perry will be a handful for opposing teams as each one provides an offensive jolt that can carry the scoring load if needed. 2019 big man Eddie Burgess is a rock. He's big, strong and finishes through contact with regularity.
Red Oak
The Hawks missed the playoffs last year but Red Oak is placed in a new district which is expected to be less grueling than the previous year. 2019 Houston Commit Marcus Sasser will lead the pack as he will be required to set the table up but also showcase his explosive scoring abilities. This season will be big for 2019 Joshua Miller as the wing had an up & down summer showing. To the staff, talent isn't the question for Miller but if he can put it all together and string a high quality season, that will catapult his stock.
Rudder
The Rangers are ranked 10th in according to TABC and 2019 KJ Cunningham will play the role as the floor commander. Cunningham is a steady driver of the car as he locates his teammates for open shots and steps up to the moment when his name is called.
SA Wagner
UNT commit Jalen Jackson is the leader and floor general for the Thunderbirds. Jackson's relentless motor, defensive prowess and decision making will be needed for the 5th place Wagner squad. Jalen's brother Jasean (Jackson), who is a sophomore has the talent and capabilities of being a strong contributor on the varsity level. 2020 Journee Philips will likely boast an increased role on the offensive front for Wagner. Phillips plays with a chip on his shoulder and we expect him to come out of the gate aggressive. 2021 Kajion Thornton possess a nice ceiling as well and when he's zoned in, Thornton can contribute on both ends of the floor.
Shadow Creek
The Sharks attained second place in their district last year and lost to eventual State Champions in Port Arthur Memorial during the playoffs. Hartford commit PJ Henry will help pilot his troops to a hopeful 20 + win season this year as there is no ambiguity on what Henry does and that is score. 2019 Auston Chatman is another prospect to mention as he provides scoring and defensive versatility due to his size, shooting capabilities and IQ.
Sharpstown
Texas A&M have recently offered 21′ forward Joshua Farmer as the Sharpstown native has been high on the TBB board since May. Farmer is equipped with length, a versatile game and athleticism that translates. Brian Perry is another sophomore for the Apollos that can have a strong season. Perry makes shots along the arc and contributes in an array of ways on the floor.
South Oak Cliff
We are waiting for junior post Kylon Owens to take the next step as a player and the 2018-2019 school season could be it. Owens is a big, interior prospect that can be a force on both ends of the floor. Owens is also capable of making shots from the three point line/challenge shots but consistency is key for Kylon this year.
Sulphur Springs
Three integral pieces from Sulphur Springs team last year are gone as the low hanging fruit of the conversation is, who will step up? Well all this does is open the opportunity for prospects such as senior post Xavier Cork and 2019 Keaston Willis to help engineer the process. Corks vertical athleticism and capable post game bears positive results. Willis is capable of shouldering the scoring load and fill the scoring column as his recruitment can see an up-stick with a very sound season. Who I'm intrigued about the most on this team however, is 2020 Cameron Kahn. Cameron ability to grab & go, finish and create in transition to go along with his defensive instincts are impressive.  A breakout candidate for this season, Kuhn has a chance to make the most out of this opportunity.
Waller
Freshman big man Adam Stewart will hop right in and be counted on to be a key piece for the Bulldogs. Stewart is a traditional post with a promising shooting stroke from 12-15 ft out. Adam will struggle in moments (like majority of underclassmen) but we believe he will benefit immensely at the end of the day.
WF Rider
Lubbock Christian recently received a commitment from 2019 forward Ty Caswell. The future Chap packs great range on his jumper, plus vision as he will be pivotal for the Raiders to match or surpass last year's achievements. Rice commit in senior Ben Moffat will supply sound post play and dependency as a shot changer & rebounder.
Edited by AB