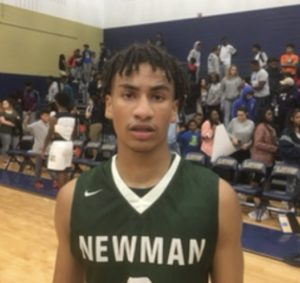 The second part of our  TBB Prospect Preview, we surveyed the mass amount of  potential and definite division 1 prospects that participate in programs that fall into the 5A UIL Classification. The maturation of Jay Wilson, Tristen Newton and a bevy of prospects ahead.  In this section, we are breaking down teams ranging from A-L so there is plenty to read, plenty to digest here at texasboysbasketball.com
*Note – All rankings mentioned are from the TABC Pre-Season Team Rankings
Carrolton Newman Smith
Junior guard Jarren Cook profiles as a legitimate shooting threat as the marksman for the Trojans will be relied upon to provide efficient offensive gains and steady play when running the point position.
Denton Ryan
This past grassroots season we saw a maturation from 2020 Jay Wilson. Motor and energy was brought on a more consistent basis as Wilson embraced what he is as a player. Jay has been gaining attention from college coaches as he is on the cusp of collecting offers from division 1 programs. If he can followup a sound spring/summer with a strong scholastic season, he will be where he wants going into next year.
EP Burges
Senior Tristen Newton caught our eye last December in what looked like an mano y mano bout with current Kansas Jayhawk Quentin Grimes. Newton produced over thirty points in that contest against College Park and thus began his name being on our TBB database. The Spring/Summer didn't go the way we anticipated it would for him but we expect another high caliber season for Tristen.
Fort Bend Hightower
There is an ample amount of buzz surrounding 22′ Bryce Griggs. He carries a good feel for the game, nice scoring package in which he makes shots in an array of ways and has shown capabilities of opening scoring opportunities for his teammates. Griggs will be an immediate impact player for the Hurricanes. We definitely can't forget about 2019 Denver commit in Mykell Robinson,  who is a strong finisher in transition as he utilizes his athleticism to influence the game. Robinson skill-set has vastly improved from this time a year ago as the Pioneers collected a talented wing that has the ability to contribute for four years. Sophomore Chris Felix boast a sound game that transfers onto the floor. A promising jump shooter that employs his length on the defensive end. Another one to note is crafty senior guard Kevin McGaskey who will look to convey a quality grassroots season to the scholastic year.
Fort Bend Marshall
2022 Chris Marshall is one of the top guard prospects in the freshman class. Marshall delivers off the dribble, exudes confidence when he plays and possesses the ingredients to concoct himself of becoming a household name. Chris still has ways to go as a player but the next 3-4 years will be interesting as we track his development.
Frisco Liberty
2019 Lamar commit Zion Richardson comes back to the fold for his senior year as he looks to guide his Redhawks squad to the top of their district and make a playoff push once again. Richardson has continually made progressions in his game and has thrown new wrinkles to his skill-set. Junior Micaiah Abi will have the opportunity to display his unique inside-out game and can make the jump as one of the primary scoring targets for Frisco Liberty this year.
Frisco Lone Star

Northern Arizona commit Isaiah Lewis will be the primary option for the Rangers this year. Even better news, Lewis is healthy and has an opportunity make an immediate impact on the court.
Frisco Wakeland
Junior Austin Lewis was solid during the grassroots season as he started to grow accustomed of the speed and physicality the game brings. Lewis can stretch the floor as he also brings a solid touch around the rim. Utah State has came to the see the talented forward.
Highland Park
Impressed with the versatility freshman Luke Hardenburg brings to the table. He's a smart player with vision, handle and make defenders pay when left open.
Justin Northwest
Northwest fell short of a state title last season and Head Coach Mike Hatch accepted a staff position at SMU. Mason Hix (Collin County CC) graduated, but the trio of  2019 Avery Anderson (Oklahoma State Commit) Sam Freeman and 2020 Julian Smith return. Anderson is a dynamic, play-making guard that provides a high-level scoring punch. Freeman's rebounding prowess and shot-blocking instincts supplies an interior presence that gives the Texans an edge against their opponents. Smith, who has been viewed as a catch & shoot prospect, showed in the latter part of the summer and in the fall that he can contribute and score when operating off the dribble.
Kimball
Seniors Cobe Williams, Deaunte Lee & Kenyawn Bowie should have no problem with continuity and chemistry when they are on the floor together due to them having played on the same club team (Dallas Showtyme). Williams is a quick, attacking guard that keeps defenders treading backwards when he gains a full head of steam.  Lee is a shooting marksman that can open huge leads for his team when he executes on a barrage of three pointers in consecutive fashion. What Bowie provides can be overlooked; He's not likely to score 30 points (more or less 20 in that matter) but he cleans up on the glass, is a physical interior presence and will get his hands dirty and make plays that contribute to winning basketball. 2019 Cole Williams will also be a key cog for Kimball as he  has displayed the ability to score in bunches.
Lancaster
Lancaster is projected not only to win their district but potentially reach San Antonio for the Final Four. 2020 Mike Miles and sophomore Wade Taylor will be key pieces to the puzzle for HC Ferrin Douglas and staff. Miles holds offers from Houston, LSU, Old Dominion, TCU and Oklahoma State as Mike balances scoring and generating looks for his compatriots. The speedster, Wade Taylor is a blur in transition as he seamlessly gets end to end with a finish or kickout.  Taylor holds offers from SMU, Texas A&M, Oklahoma State, Florida State and TCU. Junior Marco Foster will be a key piece for Lancaster also as his shot making, floor spacing and confidence will be needed.
Little Elm
When Little Elm comes up in a casual conversation, 2020 RJ Hampton's name seems to quickly comes up. Hampton is not only number one in our 2020 rankings but he is one of the top prospects in the country. Positional size, scoring dexterity, RJ will be relied upon if the Lobos hope to make a playoff run.
Hampton isn't the only story as freshman Tre White has showcased in the fall leagues of being a budding star. White is arguably the top player in his class as well and his ability to score and carry the load when needed will be essential for Little Elm.
Edited by AB