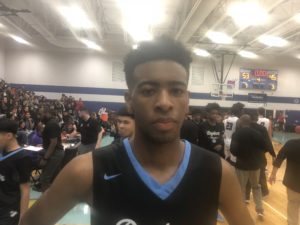 The staff have covered the McDonalds Texas Invitational for 13 straight years and we're keeping the tradition alive by rolling out to the Bayou City for the 14th year. There was a 52 and 49 point performance and several other players made their case on Thursday in Pasadena. 
Tramon is Stamping a Mark on Games
20 point performances standout to the staff, but 40-50 point outings pop out to us. Dickinson guard in Jr. Tramon Mark collected 52 points in the Gator's win vs Manvel on Thursday as he provided an array of ways in getting the ball through the hoop. Tramon has an assortment of skills, knocks down the long ball as he Hs shouldered the scoring load for his team early on this season. Marks is making a case for being a top 5 player in his class. 
49 For Mr. Schoby 
2019 pg Byron Schoby strung together the most exhilarating first half scoring performance (35 points) so far this season. Although we are in the adolescent stages of the scholastic season, it would be hard for me to forget the 49 point show    he put on for McKinney. 
The Bryce Griggs 
One prospect we made sure to get our eyes on was freshman Bryce Griggs of Fort Bend Hightower. Bryce started out slow and couldn't get in a rhythm early on but Griggs orchestrated a 4th quarter scoring flurry (12points) to put his team within striking distance in their first game. He generates airspace off the bounce and is furnished with great range on his jumper. May not be a popular opinion at this point but Griggs and Tre White of Little Elm hold the argument of who is the best player in his class. 
Keon Edwards Thursday Analysis
Sophomore Keon Edwards is one of the top players in his class. The talent he possesses, the size, skillset if placed together properly will see himself playing on TV with Dick Vitale commentating. However,  there are still ways to go. Edwards showcased his ball skills and vision. Breaking down his man off the dribble and finding his teammates when the attention of the defense is on him. Edwards doesn't "bring it" on a consistent basis which leaves the staff wanting more but we chop it up with youth at this stage but once Keon locks in, he can be as good as he wants to be.
Morton Ranch Day 1 Review  
The Mavericks opened up the TX. Invitational with a surprising lost to Plano East. The Panthers simply outplayed the Morton Ranch over the course of 32 minutes but Morton Ranch returned to form and won the second game. 2020 Adrian Caldwell utilized his athleticism to establish a presence on both ends. Fast-break dunks, blocks and a variety of finishes around the rim. 20' Eddie Lampkin had a quiet first game, getting in foul trouble early and not able to find ways to impose his will inside. The second game, Lampkin played with more effort and edge which allowed him to construct a very sound performance in the night cap game. Jr. LJ Cryer's scoring dexterity was on full display. A proficient scorer off the bounce, Cryer supplies a smooth shooting stroke. He got careless with the ball in inopportune times but LJ did what he does best. 
Standouts 
Chris Felix, 2021 SG – FB Hightower:  Compared to a year ago this time, Chris Felix was trying to figure out how to contribute to the cause. Fast forward to now and Felix is eyed as a key cog for Hightower to achieve success. Chris rebounded, scored on spot up situations and gathered a double double in his team's contest vs Converse Judson.  
Ethan Taylor, 2020 2/1 CG – SB Memorial: Could be considered a coming out sorts for Taylor. The talented guard for Memorial filled the scoring column up with jumpers, lay-ins and also found his teammates on drives. Will definitely be a prospect we keep tabs of in the upcoming months. 
Nick Gazelas, 2019 SG – Atascocita: Gazelas is a threat from deep. Torching the nets from three as he poured in 23 points in Atascocita's morning win vs Houston Lamar. Nick is always ready to shoot the ball as his positional size and feel for the game makes him an intriguing prospect. 
Dhamini Hernandez, 2019 CF – Converse Judson: From today's showing, Hernandez is one of the better unsign seniors in the state of Texas. He's long, can shoot it and is a intuitive passer. 
Kaleb Steward, 2021 PG – Crosby: A savvy guard, Stewart pushes the ball in transition and locates his compatriots on the perimeter. Caleb is a steady driver with athletism that the staff has been high on for a year now.
Edited By: Alan Branch