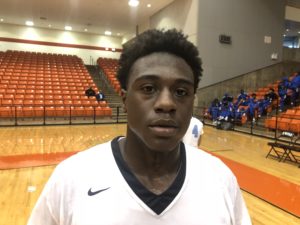 In the first episode of the 12 in 12 we dive in on the sophomore class in a Texas. In a near two weeks span, the TBB staff traveled to Houston twice for the McDonalds Invitational and Hoopsgiving Classic presented by Jim Hicks of RCS Sports. There was plenty going around in the DFW post Thanksgiving with the Robert Hughes Hall of Fame and  Glenn Smith's Thanksgiving Hoopfest.
Arthur Kaluma, 2021 SF – Universal Academy: Kaluma showcased why he is the top player in the 2021 class. His feel and old-school swingman style-of-play equates to positive results. Arthur guided his UA Eagles squad to two impressive victories against Tulsa Memorial and LA Peabody at the Robert Hughes Hall of Fame Showcase.
Kaleb Stewart, 2021 PG – Crosby:  Flashback a year ago from this time – that's the first time the staff identified Kaleb Stewart. Fast forward to present day and we have seen a growth in his game that was foresaw. Stewart at the McDonald's Invitational scored more efficiently while his leaping abilities have noticeably seen a jump.
Joshua Farmer, 2021 CF – Sharpstown: I traveled to Aldine Davis to watch the #4 player in our rankings in Josh Farmer and although I left wanting more, there was still no question about the talent Josh is equipped with. He's long, athletic,  fluid operating out on the perimeter and in spurts looked like the best player in his class.
Toney Green, 2021 Wing – FW OD Wyatt: Green is an intriguing prospect out of Fort Worth. He can attack both ways, furnished with solid passing instincts but can get carried away at times. Green is a top 30 prospect that averaged 13 pts 4 rebounds a game in three games.
Manny Obaseki, 2021 Wing – Allen: Going back to the time clock. A year ago from this time, Manny was trying to figure out how to be productive in the varsity level. Skip ahead to now and Obaseki has tighten his game up and viewed as one of the key pieces to Allen winning basketball games.
Keon Edwards, 2021 Wing-Guard – Sam Rayburn: Edwards participated at the McDonald's Invitational and The Hoopsgiving Classic as he displayed a skill-set that makes him a top 5 prospect in his class. Keon's positional size mixed with his ball skills and shooting capabilities was shown in stretches.
Chucks Isitua, 2021 C – HCYA: Chucks has made strides in understanding the game. He gets in position to score, challenges shots, rebounds as he was a strong presence in the paint.
Allen Udemadu, 2021 PF/C  – HCYA: Allen has also made strides in his game via his instincts. He's a powerful athlete that finished above the rim in traffic. Udemadu accumulated a double-double outing.
Jerome Rodgers, 2021 PG – Dallas Madison: Rodgers carries a strong bloodline as his mom and dad were both notable athletes. Jerome at Massive Monday penetrated through the opposing defense and found his teammates on drives to the cup. A top 25-30 talent in the state of Texas.
Chris Felix, 2021 SG – FB Hightower: Texasboysbasketball.com has been high on the lanky guard out of Hightower. Felix impacted the game on both ends utilizing his length on the glass, intercepting passing lanes and knocking down shots from the perimeter.
Harison Ingram, 2021 Wing – St. Marks: Ingram's wielded his size and IQ to string together a stellar game against Austin LBJ at the Thanksgiving Hoopfest with 23 pts 9 rebounds & 4 asts. Harrison's recruitment has picked up in the past 60 days.
Sir Isaace Herron, 2021 PF – Lamar: Herron stock has rose towards the end of the summer. He's a long, athletic forward that supplies an emerging game. Sir Isaac will see his name pop up in our 2021 rankings due to his potential and steady production.