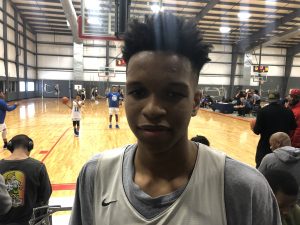 Two top 25 level talents were identified  by the Texasboysbasketball.com staff this past weekend. As the staff was planted on the north side of Dallas for the Primetime Winter Blast. Full stats were provided by EPLAY Basketball as break down our top performers through the power of EPLAY.
Wayne Pritts, 2023 PF – 3D Empire: Pitts still on the raw side but on the boards he was effective even playing up a grade. Pritts averaged 7 rebounds a game.
Gehrig Norman, 2023 2/1 CG – 3D Empire: Norman is a talented guard that draws similarities to past prospects that have came from 3D. Norman strung together strong outputs, averaging 20 pts a game. 
Zuby Djiofor, 2022 PF – Dallas Thunder: One of the most exciting moments that happen's in the life of an evaluator is locating a "locating in the rough." Zuby's size blended with his athleticism stood out as he pieced together near double-double numbers at the Winter Blast. It's not far fetch to have Djiofor in a top 15-20 conversation in the rankings. 
Tyson Berry, 2023 PG – bEASTtx Bullies: The high point man for the Bullies, Tyson got to his spots, hit shots as he composed 22 points in the championship game. 
Robert Bellard, 2023 PF – bEASTtx Bullies: Out of Marshall, Tx, where current UTA guard Tiandre Jackson was born and raised; Bellard is has a chance of becoming a next level prospect if everything shapes up right. Robert challenged shots (1.5 blks a game) ran the floors hard and constructed 5.5 ppg & 6 rpg.