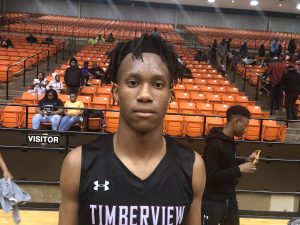 Seems like it was yesterday when the staff was prepping for the Elite 14 in Wichita Falls. Now we are reaching the end of the scholastic season as the staff is on the road to San Antonio for the UIL State Tournament. We break down the top prospects remaining from the 3A, 4A, 5A & 6A classifications. Is the best prospect a Freshman? Duncanville, Jamal Shead's heroics & more below.

3A

Will Young Vincent Steal The Show

If Cole High School plans to win a state title, Fr. Vincent Iwuchukwu will need to provide a strong inside presence. We haven't release our freshman rankings but Vincent has made a strong argument as the top prospect in the 22' class. Leading the Cougars to a 34-5 record, recording double-doubles in key matchups and rising to the occasion defensively when his team needs it.

Jerome Rodgers, Dallas Madison Have Eye on The Prize

There's a familiar face on the sidelines of this year's Dallas Madison squad and Coach Damien Mobley looks to add another state title on the resume. Madison  will be in a battle vs aforementioned Cole High School as TBB prospect, Jerome Rodgers will be on a stage to showcase why the staff is very high on him. Rodgers utilizes his athleticism on both ends and has made strides as a jumpshooter and lead guard.

4A

Faith Family Looking to Bring Title Back to Oak Cliff

Although reaching this point may be unfamiliar territory for the Eagles, overcoming deficits and coming away victorious in big-time games has become habitual at this stage. The freshman duo of Trae Clayton and Jordan Walsh have provided stellar play for Faith Family. Clayton has an attack-doggish approach to the game, testing opposing defenses inside and tackling the challenges defensively on switches. Walsh is a tantalizing prospect as his length, athleticism and improved ball skills allows him to make his mark in a game even when he doesn't score. Seniors KJ Barnes, Langston Murphy-Brown and Jeremiah Coleman bring experience, scoring punch and leadership that has gotten the Eagles to San Antonio.

Jack Yates Looking for 5th State Title

Head Coach Greg Wise and Houston Yates make their 7th trip to the State Championships after a 108-89 victory vs defending champions Silsbee. 20' Rubin Jones leads the Lions as this is an opportunity for Rubin to stake his claim as a top 15 prospect in the state. It has all slowly been coming together for Rubin and the staff will see what he will provide at the Alamo Dome. Other prospects to take note of is Junior guard Antwon Norman., who's as explosive as they come at the guard spot. Intercepting passing lanes and racking up steals in Yates' notorious press, punching it home on drives to the basket and supplying grit and energy. When Jo. Valrie is hitting shots, Yates is a handful as the talented senior is furnished with sound athleticism, rebounding prowess and shot making capabilities.

5A

Continuous Rise of Jamal Shead

We've been high on Mr. Shead since freshman year, slicing and dicing his way through defenses and fast forwarding two years later, it's more of the same but he's also added layers to his game that's made him a household name in the 2020 class. One thing Jamal has shown time and time again is there isn't a moment too big for him. We expect a big-time performance out of him this week.

2 in 3? A Trio of Seniors Look to End Their Careers With Gold Around Their Necks

"Can never undermine experience," and that quote holds true in analyzing Mansfield Timberview's run to San Antonio. Having won a title in 2017 which was pioneered by current Oklahoma State guard Isaac Likeleke, the Wolves looks to add another title in he mantle. Sr's Rodrigue Soares, CJ Smith & Air Force Signee Tre White along with HC Duane Gregory have been steering the ship the right direction this season. Soares is a methodical, smooth scoring wing that gets hot quick from deep. Smith has ran the show at point and has provided a scoring punch that cannot go unnoticed. White is the ultimate glue-guy. He's a proficient rebounder, shot blocker and finisher that he gathers monster boxscore stats without having a single play drawn for him.

Jalen Jackson Looks to Complete Some Unfinished Business

Has been a few years since the Thunderbirds have been in the Alamo Dome. The previous time, current Baylor Bear Forward Tristan Starks was manning the front line. Jalen, who was a sophomore at the time looks to finish the season with a championship. The future UNT guard is a fearless competitor; making his mark on the defensive end and being able to get to his spots and hit shots. Jr. Journee Phillips, who was a freshman on that team in 2017, shares the backcourt with Jalen as Journee provides  high volume scoring and steady defensive play.

Peaking At The Right Time- Feat. Sulphur Springs

Sulphur Springs wasn't projected to be in the Final Four, albeit bolstering a handful of D1 prospects, but chemistry and continuity is where it needs to be. UIW Commit Keaston Willis is a natural scoring guard that at any given night can score 30pts. 19' Xavier Cork has been coming alive as of late. Scoring on the block and making highlight plays on the glass and on the defensive end. Junior Cameron Kahn, who holds a UTA offer has shot it well from deep all season. Him being able to widen his game has allowed Sulphur Springs to be creative in lineups. The X Factor for the Wildcats however is  Daedae Hall. A big-time competitor that wears different hats. Rebounds, defends multiple spots and plays with a mass amount of energy.

6A

Keiman Capers, North Shore In It to Win It

Possessing a 33-3 record this season, Production from a multitude of prospects has gotten the Mustangs to this point. Senior Keiman Capers, a Cream of The Crop Alum  is active on the glass and scores in a variety of ways. Bruce Scott supplies firm play at the guard spot and is capable of shouldering offensive load if circumstances permit. Joshua Cooper provides production on multiple boxscore stats as the showdown vs Duncanville will be a must watch.

Year 1 = Championship?

Speaking of Duncanville, It's the first year HC David Peavy is at the helm.  Although at times the production on the court was shaky, The Panthers have meshed and are two games away from a title. Texas Tech Signee Jahmius Ramsey is a handful for opposing defenses. His explosive athleticism mixed with his size and scoring prowess makes him a mismatch for rival guards. Junior Micah Peavy has been stellar on the glass. Recording multiple double-double outings in the playoffs and displaying his high-level versatility on the offensive end. Others to note is 20' sharpshooter Derek Luna, quick, disruptive guard Evan Gooden and promising sophomore Damon Nicholas.

Multiple Prospects At Klein Forest

It wasn't an easy path for the Eagles. Defeating a Samuel Williamson led Rockwall on Friday then subsequently defeating a Tyrese Maxey, Chris Harris led South Garland the next day. Unsign Senior Calvin Solomon was on a tear. Active on both ends of the court and showcasing an offensive game that translates. UCO Commit Kharee McDaniels makes big time play after big time play. The Saavy, quick guard is capable of running a team and producing on he offensive end.

Can Langston Love & Cibolo Steele Get it Done?

One of the top guard prospects in the 2021 class, Langston Love (another Cream of The Crop) has piloted his troops to the finale. A 33pt performance vs Austin Westlake, Love uses his strong frame to finish vs contact and showcased dynamic playmaking capabilities.
Conclusion
For the programs not mentioned on the article, the TBB staff will be there to get a good evaluation of the top players at Decatur, Liberty Hill, East Chambers & Brock.