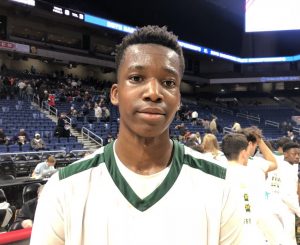 Thursday's Action didn't disappoint. High profile matchups led to high-level games. Vincent Iwuchukwu didn't disappoint, CJ Smith, Jalen Jackson piloted their troops as this TBB Diary, we highlight a key element in the programs advancing to Saturday's title game.  
Experience Can 
Never be undermined… an adage that continues to be the theme for the programs that win on the grand stage. Mansfield Timberview holds a roster that carries a mass amount of experience and subsequently put on a show  Thursday with a 79-55 win vs Manor. Air Force signee Tre White was an animal on both ends. He cleaned up on the offensive glass, blocked shots and lead the break once he nabbed a rebound. 19' CJ Smith's growth as a lead guard has been a key aspect in the Wolves stamping a spot in the title game. It's also been key in CJ's recruitment as well. Smith accumulated 24 points but his ability to make plays for others and run a team translates. Another unsign Senior, Rodrigo Soares strung together a sound performance with 13pts 7rebs and his steady production will be much needed for the Wolves to win. 
San Antonio Wagner, as noted in our previous article have been here before and the two players that stepped up in the semi's vs Sulphur Springs was two (TBB) Cream of The Crop Alums Jalen Jackson (UNT Signee) & 20' Journee Phillips. Jalen Jackson was in attack mode early; getting to the paint, making right reads once backline defense arrived in which his teammates made the defense pay. Jackson orchestrated a 18pt 5ast & 3 stl outing. Wherever the ball is, more than likely you'll see Phillips in the mix. Journee's strong rebounding instincts mix with his attack doggish game was key in leading the Thunderbirds in scoring (19pts) and rebounds (7). 2021 Ja'Sean Jackson , the younger brother of Jalen connected on 4 three pointers and his offensive production brought a jolt of energy for Wagner. 
Although the Dallas Madison roster doesn't hold a group that have been in the Alamo Dome before, they do have a coach that has. HC Damien Mobley, who has won two state titles with Dallas Madison in 2009 & 2013 is under the helm and his group recorded a big-time second half performance against Cole for a 43-33 win. Sr. Dominique Robinson led the way with 12pts 11rebs as he was a key cog on Madison's defensive execution; tipping passes, keeping his man in front and playing strong help-side defense. 
Vincent Iwuchukwu Is Who We Thought He Is
We Previously spoke about Vincent needing to provide a strong presence inside for Cole HS to win. Although they couldbt get past Madison, Vincent's stat-line was impressive. 10pts 7rebs and 8blks. Vincent was disruptive on the defensive end and offensively showed flashes of a player that can score inside & out. One could say Iwuchukwu's ceiling is the highest of any prospect in the 2022 class and there isn't going to be a rebuttal on this end.  He does have ways to go but the talent he possesses is very noticeable. Vincent holds a UTSA offer and his family has heard from Baylor. 
Notable Box-Score Stats
Keaston Willis, 2019 PG – Sulphur Springs: 23 pts on 50% Shooting (11-11 From Foul Line)

 

Daedae Hall, 2020 Wing – Sulphur Springs: 20pts 5rebs on 64% Shooting)
Scott Thomas, 2019 Wing-Forward: 19pts 7 Rebs