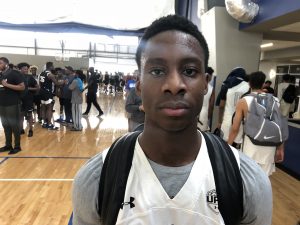 Who's this kid from Texarkana? Dayday Hall is on a mission this club season, get a peak in on 3D Empire's dynamic duo's recruitment. Texasboysbasketball.com has it all for from our time in Fort Worth for the WarB4The Storm hosted by YGC36 and Duncanville for the Dallas Regional Showcase which was coordinated by Dallas Showtyme, Dallas Mustangs & Stacy Houston.

CJ Kelly Stands Out

Out of Texarkana, CJ Kelly was no stranger in being productive. Active on the glass, sped up and down the floor and made plays on the defensive end. He still has some ways to go but Kelly game fits the mold of a top 25-30 player in 2020. Recruitment will soar this summer.

It Translates! Dayday Hall Segment

The wing out in Sulphur Springs gets a lot done…. and I mean a lot! At Duncanville Fieldhouse his production was key to Showtyme going 2-0 on the weekend. Pursued missed shots, utilized length to make an impact defensively and scored off the dribble. Hall's game translates and this grassroots season, he can unveil that to college coaches.

Baylor Hebb, Logan McCloughlin talk to us about Recruitment.

The backcourt duo for 3D Empire are generating buzz with their strong play. Hebb, a crafty scoring guard that shoots with range holds an ACU offer and is receiving interest from UNT, Utah State, Colorado State & Sam Houston. He plans to take an unofficial this summer to Utah State & Colorado State.

McLaughlin is a high voltage, attacking guard that makes defenses pay with space from the perimeter. He also holds an ACU offer and holds interest from Texas Tech, TCU, Ok. State, Colorado State & Kansas State. He plans to take an unofficial to Colorado State this spring/summer.

Standouts

Elijah Huey, 2021 SG – Urban DFW 16U: Huey has game and a body that causes fits for opposing guards. He hit shots from deep, used larger frame to initiate contact on drives and was a standout  this past weekend in Duncanville.

Manny Obaseki, 2021 Wing – Mudiay Elite: Manny's athleticism stands out right away. Excelled in the open court and took on the role as the lead guard for Mudiay.

Ed'Xavier Rhodes, 2021 PF – ProSkills 16U: Has an ample amount of talent. The lefty forward's mobility mixed with a promising inside/out game makes him a formidable foe vs opposing frontline prospects.

Chrisdon Morgan, 2021 PF – Urban DFW 16U: Speaking of a forward with ample talent, Morgan stood out to the staff in stretches with his ability to effect the game on both ends

Marcel McReary, 2021 SF/PF – Crab 5 16U: has made strides in his game from the past year. A Cream of The Crop Alumn, Marcel was effective on the glass and a spacer from the perimeter.