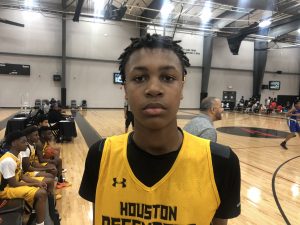 Drive Nation is the host of the second session of the Under Armour Futures Tournament. Although we normally don't cover players below 9th grade, UA presented the staff with plentiful young talent that can become a player in the future. Cream of the Crop Alums and future Cream of The Crop participants stood-out this weekend in Dallas.  
Chris Wilkerson 2023 Wing – TJ Ford – Lefty Wing with nice mid-range game. Feel & shooting touch was on the forefront when he played. 
Jaden Guidry, 2023 Forward – TJ Ford: Versatile Forward that can impact the game in multiple ways when his motor is up. Talent is without a question when evaluating him. 
King Grace, 2024 PG – Northstars: Albeit playing with a ankle injury, King produced in on offensive end. Hit shots from deep and made solid decisions on drives to the cup. 
C'Zavien Teasett, 2023 SF-Louisiana Elite:  Lefty guard with nice stroke from deep. Knows how to move without the basketball and makes defenses pay when given space. 
Finley Bizjack, 2023 SG – Texas Hardwork: Cream of the Crop Alum! Bizjack is a big-time shooter with pop & plays with an edge. Has the tools of becoming one of the top tier players in his class till he graduates high school. 
Trealyn Porchia, 2023 CF – Houston Defenders KB: Has made strides in his game in the past couple of months. Southpaw forward with uncanny way of finishing vs length. Had 16pts 5 Rebs & 4stls vs Cooz Elite. 
Tyler Smith, 2023 Forward – Houston Defenders KB: Equipped with great length. Not only looks the part but was playing it as well. Prospect to keep tabs on going forward. 
Hubert Caliste, 2024 Wing – Louisiana Elite: Size blended with skill makes him a mismatch nightmare. Best player in division. Made plays in lead guard role, as he scored 31pts on 60% shooting in their Saturday night matchup. 
Kendrick De'Luna, 2023 C – SA Fire: Big man with solid touch around the rim. Has ways to go but he possesses good size & played hard. 
Jaylen Gardner, 2023 Guard – SA Fire: Attacking Wing-guard with mass amount of toughness. Contributed on both ends of court. 
George Washington, 2023 PG – HCI Storm: Crafty guard that made plays in half-court setting. Understands how to play and been a big-time producer for his squad this weekend. 
Montavious Seraille, 2025 Forward – KREAM Elite: Really made his mark on the glass. Lefty forward that can become a prospect with growth and steady development.