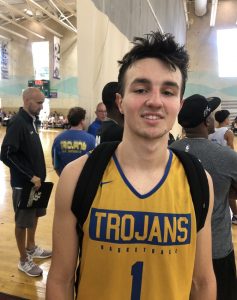 Tim Littlefield provides us with a snippet of the top prospects in the Austin area
Greg Brown, Wing – Vandergrift – ELITE ATHLETE.  VERY EXPLOSIVE Finisher in transition. Runs the floor well, finishes well above the rim. Expanding his game, can hurt you off the dribble and shooting it from 3. Solid defender and rebounder. Will contest and block shots with his length. Special player! 
Jamal Shead 6'1 PG – Manor – Do it all guard, Fills the stat sheet!!!  has elite court vision, Sees the floor and finds open guys or open attacks gaps with strong body and finishes in traffic. Does a good job playing through contact. Scores it at all levels; Solid mid -range game to compliment his quick 1st step. Puts pressure on offensive players with quick feet and hands. Strong rebounder from guard spot as well. 
Jordan Teal, CG – LBJ – Playmaker!!! Can beat you in a variety ways. Gets to the basket, scores it in traffic, finds open guys and knocks down open looks. Strong off the dribble. Tenacious defender!! Deceiving long arms gets a lot of deflections, quick feet to stay in front. Solid all-around player 
Kevin Jamison, C – St Stephen – Long wiry player who will alter or block a lot of shots on the interior. Improving post play makes him a threat on both ends.  
Max Smith, Guard – Anderson – Arguably the best shooter in the Region if not the state. Deep Range !!! Quick, clean release.  
Blake Spiller, SG  – Anderson – Good Shooter and a good athlete. Moves well with and without the ball. Scores it multiple ways, helps form a solid backcourt 
Carson Perkins, PG- Liberty Hill-four year Starter. Solid guard who makes plays. Smart , shifty with the ball, knocks down open shots, finds open teammates. Competes hard.  
DeAuntre Davis,  4/5- Chilton – Good size player who has upside. Good footwork, can score it inside. Plays through contact. Has ability to face up and hit the mid-range. Good athlete who rebounds it. 
Rory Munro, Wing – Westlake- Crafty scorer. Can put it on the floor and get in traffic and finish or knock down open looks. Good size and length allows him to get to his spots and get shots off.