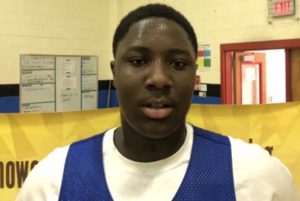 The Cream of The Crop has been a notable, annual event that We at Texas Grassroots Basketball have held for 6 years. 2020 marks the first year of the Southwest Edition in Kyle, TX as some of the top young players from the CenTex area manned the courts on Saturday.
Andre Starks, 2025 PG – Steele & Doble:  Andre had a solid day. Showed ability to score off the bounce. Showed ability to get by defenders and unleashing athleticism in space.
Cristin Good, 2025 PG – San Marcos: Savvy guard showed he could score it some. Good feel, creates space for himself with steady handle.
Jamie Vinson, 2024 Forward – St. Gabriel: Long arms, shoots it's really smooth with a good clean release and rotation.
Cameron Walker, 2024 Forward – Bernal MS: Big Fella has a strong skill set to go along with his size . Moves well up and down the floor. Has good strong hands and overall just a solid all-around basketball player.
Kingston Fleming, 2025 PG – Luna Brennan: Kid can really play. Scored it all levels. Sees the floor well and makes good reads. HIGH IQ. Tons of play making ability along with getting others involved. Competed on deee defensive end as well. Got deflections and won 50/50 balls.
Ed Onwe, 2025 Wing: Huge Upside!! The lefty was efficient all day. Scored it multiple ways. Showed ability to put it on the floor and create for himself and others. Was solid on the Defensive end and rebounding as well.
Robert Conrad, 2025 PG – Cedar Creek: Real heady player who is crafty with the ball and attacked defenders frequently. Scored the ball from multiple levels.
Jaylen Brazzle, 2024 PG – Cele: Quick guard who shot pretty good at times during live action. Quick feet, solid defender.
Cam Cowgill, 2025 PG – Brennan: Solid, heady Player with a strong IQ and feel for the game. Sees the floor and makes good reads. Strong in ball screen situations. Good clean stroke.
Daniel Soukup, 2025 PG – Danville: Lefty who's shifty and can create for himself and others. Shot it ok in a couple stretches. Good defender with quick feet and hands.
Karlon Hargrove, 2024 PG – Steele: Young man was on a mission.  Looked solid in drills and it transferred over into live action. Scored in bunches in a variety of ways. Quick off the bounce, got to his spots with relative ease.
Trent Medearis, 2024 PG – Hays: Really quick / fast guard. Can be tough on defenders in transition with his explosiveness. Finished around the rim and hit mid range shots.
Daryl Banks, 2025 Wing – Johnson HS: Nice size combo guard who scored it multiple ways. Looked good early on in drills and in games off the dribble.
Ora Williams, 2024 Forward: Big fella with extremely soft hands who finished well around the rim. Rebounded the ball strong as well. Played with a lot of confidence and was extremely vocal on defense.
Elijah Favela, 2025 Guard -Judson A School:  Scorer!!!! Had a solid day showing off his skill set. Was efficient from the perimeter. Scored it multiple ways during game action and showed ability to play through contact as well.
Roman Flores, 2024 PG -Jefferson MS:  High motor kid had a pretty good day overall.Scored it several ways. Was very aggressive on both ends trying to make things happen.
Hayes Pounds, 2024 PG – Penforth: Smart Heady player who can shoot it pretty good. Shot the ball well in drill action and knocked down several during live action.
Drew Basher, 2024 PG – Danforth: Had a pretty good day overall. Very aggressive and competitive. Won his share of 50/50 balls. Knocked down shots during live and drill action.