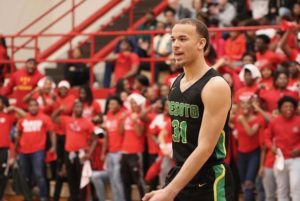 Duncan Powell re-opened his recruitment after decommitting from Arkansas last week. The rising senior has received a slew of phone calls from college coaches  as Powell talked to the staff on who's been heavily recruiting him early on.
He touches on his de-committment
"I wanted to make sure I'm making right decision. Arkansas is still high on my list. Coach (Chris) Crutchfield and I still talk a lot and they still want me there."
Powell said that he has received over 30 calls since his announcement and has heard from a wide-range of schools. Auburn, UTSA, Richmond, Dayton, UNLV, Murray State, Creighton, UNCG and has received an offer from Texas Southern, North Carolina A&T, Tulsa & Tennessee Tech and several others. He breaks down the schools that have been pursuing him the hardest.
UTSA: They have been pursuing me hard. I talk to Coach (Scott) Thompson a lot and they see me as a player that they could build around. Their guards will have graduated so they'll need guys that they can build around. They like my versatility, believe I can play right away if I were to join.
North Carolina A&T: I'm from North Carolina so it would be good to play at home. Also they are an HBCU and that would be big for me to go there. Coach (Willie) Jones & Coach (Ahmad) Dorsett reach out to me. The staff seem real cool, they want me at their program. I could see it as a good fit for me.
Richmond:  Rob Jones is who I talk to from there and I also was working out with TJ Cline (Played at Richmond from 2014-2017. Also Plano West standout, 2012). Good people and want to learn more about the staff and the program.
Arkansas: Like I said Arkansas is still high on my list and I like how Coach(Eric) Musselman runs his offense. More of a pro-style offense where he uses big wings and lets his guys play.
Tulsa: Tulsa I would say has been the most active. Coach (Shea) Seals and I talk a lot and  (offered). They won the American Conference this year and Coach Frank Haith is from North Carolina so there's a connection there.
Texas Southern: Coach  (Brandon) Chambers and I talked for a good hour when they offered me. We didn't really talk much about TSU but just life and other things which was good. I would definitely like to take a visit there at some point.
Texas Southern is listed as one of the four schools he would like to go on a visit to this day with North Carolina A&T, Richmond & UTSA.
The world is essentially at a pause with the ongoing fight against Covid19, and in this context with the cloudy skies of any club season resuming, Duncan talks about the potential effects this may have on his recruitment.
"It's always great to be wanted and I'm not taking anything away from the schools that are recruiting me but I did feel this was going to be a breakout summer for me and we'll still be able to get back to playing at some point. I just felt ready to make some noise and show I can make plays consistently on the perimeter. Things will get back to normal and I'll be able to showcase what I can do."
Ending Note
Duncan talks about planning on making a decision during the middle of his school season and to hopefully have a top 5 prior to the scholastic school season all the way revved up. Biggest factor for Powell will be playing and especially right away. Duncan's mix of strength, size and capabilities as a lethal inside/out threat makes him a priority for college coaches. Time will tell where he commits to but to keep track of Duncan's recruitment and other in-state news, log onto Texasboysbasketball.com!