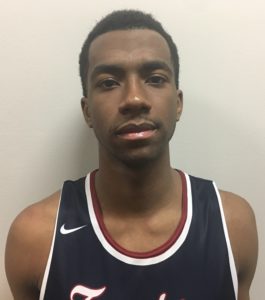 Friday's slate of game consisted of the 4A and 6A State Semifinal Matchups. Thousands of fans from each program traveled to the Alamo Dome in anticipation of witnessing their  team punch a ticket to Saturday's Title game. Tyrese Maxey placed himself in the record books and now that the table is set for Saturday, texasboysbasketball.com breaks down the games from a action packed Friday.
Dallas Carter vs. Seminole (4A Semi-Finals)
1st Qtr: Sr Dante Stearn Of Dallas Carter collects the first four points of the game as the Cowboys high octane style of play disrupted the Indians rhythm. A combination of inside baskets between Sr. Reese Moore and Soph. Jalen Brattain led the way for Seminole with a combined total of 9 points, 8 rebounds in the first quarter. Carter led 16-15 after one.
2nd Qtr: Seminole tied the ball game 19-19 after Moore made two free throws. The Cowboys full court press took a toll on the Indians as turnovers started occurring before reaching half court. Soph Jalen Williams came off the bench and brought energy for Carter on as he knocked down a momentum stopping three and made life difficult for the opposing guards to initiate their offense. Carter strung together a a 6-0 Run and lead going into halftime 33-25
3rd Qtr: Carter came out hot after a halftime speech from Head Coach Lyndon Love as the Cowboys go on a 12-2 Run in the first minute and a half. Jr Zahad Munford lead the Run with six points and two rebounds. Brattain kept his team within striking distance as he finished with 6 rebounds and 6 points after three to notch a double double. Carter stopped the momentum and increased the lead to as much as 19 points as they head into the 4th quarter up 59-41.
4th Qtr: Sr big man and Texas Longhorn Football Signee Reese Moore threw his big body around on the block. Finished through contact and led a 4th quarter surge for Seminole. Munford and his Dallas Carter group continued to dictate the pace of the game and went on their own 7-0 run to widen the gape The Cowboys shooting at a high clip from behind the arc, receiving strong production from their upper class men and defending with intensity for 32 minutes led to a 80-62 win and ticket to the state title game on Saturday.
Player Analysis
Jalen Brittain, Soph PF – Seminole: Brittain orchestrated a strong outing for the Indians as he produced a 17 point, 13 rebound double double. Brittain made shots from 12ft out. Looked to grab every missed shot and plays with a good feel for the game. A prospect that will definitely be in our database after his performance.
Jahad Munford, Jr Wing – Dallas Carter: Munford came alive in the second half with 15 points (2 in the 1st) Munford shot 7-9 from the field, was active on the defensive end and become the vocal leader for his group.
Dante Stearns, 2018 Wing – Dallas Carter: Stearns shot 86% percent from the floor (6-7 from the field) and had a solid stat line across the board with 6 rebounds, two assists, blocks and steals.
Silsbee vs Somerset (4A Semi-Final)
1st Qtr: Silsbee took control of the game early with a 15-2 lead over Somerset with 5 min left in the first. Soph Braelon Bush and juniors Devon McCain and Jordyn Adams produced 11 of the firs 15 points. Isaiah Rivera was a bright spot for Somerset. Handling the pressure Silsbee brought and getting to the paint. Silsbee trio of Bush, McCain and Adams has been too much for Somerset as they lead 30-9 after one.
2nd Qtr: Jordyn Adams connects on a three pointer to stretch the lead 35-9. Somerset starting picking through the press and found a rhythm early. Silsbee's high octane offense and depth continued to impact the game and led by as much as 33 points in the first half. The Tigers led 48-20 after two.
3rd Qtr: The theme stayed the same in the second half. Silsbee came out of the gate finding their way into the paint, Winning the battle on the boards. Sr big man Jacob Harvey Of Somerset Played more aggressive in the paint as he used his length to block shots and finish inside. Despite a 16 point quarter, the Bulldogs were still down 69-39 after three.
4th Qtr: With a commanding lead going into the fourth quarter, Adams, Bush and McCain played two minutes before being subbed out. Rivera for the Bulldogs continued to knife his way to the paint and went on his own 6-0 run in the fourth. Somerset outscored Silsbee 22 -11 in the quarter but the Bulldogs were too much for Somerset and won 80-61 to head to the State Title Game with a matchup against Dallas Carter.
Player Analysis
Jordyn Adams, Jr SG – Silsbee: Adams led the way for Silsbee with a 20 point performance. Adams collected steals, made open jumpers and had an emphatic jam in the first half. A TBB Top 30 prospect and Adams showed why he is today.
Braelon Bush, Soph PG – Silsbee: Bush is known as a scorer but he dictated pace, got his teammates involved and ended up with 14 points shooting 50% from the field. Bush played with a mature poise and when he is playing at a high level, Silsbee is very hard to contain.
Isaiah Rivera, Sr. PG – Somerset: Rivera continued to play hard and was one of the few bright spots on Friday for Somerset. He strung together 19 points but was even more impressive was his eight rebounds from the point guard spot.
Katy Tompkins vs South Garland (6A Semifinal)
1st Qtr: Both squads looked to play up-tempo in the early going. Katy Tompkins won the battle on the boards early and mainly scored in the paint. Jr duo Tyrese Maxey and Chris Harris Jr paced the Colonels with 8 of their 11 points and Sr Jamal Bieniemy recorded 4 blocks in the first quarter as the Falcons lead 12-11 after one.
2nd Qtr: The South Garland Duo recorded the first 11 points for the Colonels as they took a 22-17 lead over Tompkins. Maxey orchestrated a shooting clinic in the second quarter but a combination Kristian Sjolund, Jamal Bieniemy and CJ Washington withstood the run from the Colonels and got the deficit within two points. It's 27 all going into halftime
3rd Qtr: Tyrese Maxey started the second half where he left off. Adding 5 points in the first minute and a half. The free throw line has been the home for CJ Washington as he has been on the line 10 times. Tompkins strung together a 9-0 run to take a 42-41 lead as Bieniemy produced 8 points in the quarter. All tied up going into the 4th quarter 50-50.
4th Qtr: Tompkins scores the first 7 points in the quarter as the momentum they gathered at the end of the third carried over to the fourth. Tyrese Maxey slowed the Falcons momentum after he executed on three point play. Tompkins had a comfortable 67 to 59 lead with 1:46 seconds left but after a timeout from the Colonels, Maxey and Harris Jr produced a 10-0 run and led 69-67 with 40 seconds left. After a rare occasion we're Maxey goes empty from the charity strike, Bieniemy dribbles up and knocks down a clutch three pointer to go up 70-69. Maxey knocked down 2 clutch free throws with 3 seconds left as we head to overtime 71-71.
OT: It was still a back and forth affair but CJ Washington continued his aggressive pursuit to the rim as he scored 4 points in the extra quarter. Maxey executed in another 3 point play as the Colonels took a 74-72 lead. Jamal Bieniemy took his team on his shoulders making key layups down the stretch, knocking down 2 free throws and making it a two possession game and hold on to a 80-76 win in the most entertaining game so far in the Alamo Dome.
Player Analysis

Tyrese Maxey, Jr PG – South Garland: Maxey made history with his 46 point performance as he tied the UIL State Championship Tournament record for most points in a game (Marcus Freidberger, 1947). Maxey made clutch play after clutch play and showed he can wear any hat the Colonels need him to wear.
Jamal Bieniemy, Sr Wing – Katy Tompkins: Speaking Of clutch plays, Bieniemy answered the call when Tompkins needed points. Jamal finished with 25 points, 7 rebounds 4 blocks and the win. Oklahoma Head Coach Lon Kruger picked up a key asset for his Sooner squad.
CJ Washington, Sr PG – Katy Tompkins: Two things generally happened when Washington got to the paint. Either he drew a foul or he made the layup. CJ lived at the free throw line as he was 13-19 from the charity stripe.
Allen vs Austin Westlake (6A Semifinals)
1st Qtr: Allen takes the early 5-3 lead until Jr Big Man Will Baker finishes off a putback to tie it up for the Chaparrals. The duo of Jr Isaiah Stevens and Sr Jaylen Walker produced 11 points to lead the Eagles to a 16-13 game vs Westlake after one.
2nd Qtr: Austin Westlake saw a rise in their offensive production in the second quarter. Future Baylor Bear Matthew Mayer and Texas Longhorn signee Brock Cunningham led the charge for the Chaparrals and trimmed the deficit to one point. Jaylen Walker provided another four points this quarter and led all scorers with 10 going into half. Eagles up 30-28 after two.
3rd Qtr: Will Baker for Westlake started showcasing why he is a high major prospect with 5 straight points and added three rebounds in a two and a half minute span. Allen withstood the Baker run as Isaiah Stevens took the lead and strung four straight points himself. A momentum shifting three pointer by Allen Sr Brenton Mills increases Allen's lead by 8. A layup by Sr Donovan Parham for the Eagles bumped the lead to 10 points as Allen leads 50-40 going into the 4th.
4th Qtr: Allen Increased the lead by as many as 15 points within the first two minutes of the quarter. A combination of Sr Jaylon Scott and Jerritt Dixon lead the early surge for Allen. For Westlake, Sr Luke Pluymen knocked down two shots and Xavier Signee Keonte Kennedy contributed 12 points as they continued to fight to keep Westlake in the game.
Player Analysis
Isaiah Stevens, Jr PG – Allen: Stevens was the floor general as he dictated pace, continued to be the vocal leader on the floor and scored when the momentum was getting away from his team. He shot a remarkable 71% from the floor as he contributed 12 points.
Jaylen Walker, Sr Forward – Allen: Walker came to play as he provided 14 points and an impressive defensive performance against the D1 talent Westlake possesses.
Will Baker, Jr Center – Austin Westlake: The staff left the game wanting more from Will Baker. He had a early third quarter stretch where he flashed his full repertoire, but didn't put it all together in longer periods of time. He produced 10 points, 8 rebs and recorded a block as he showed his nice shooting stroke from beyond the arc and fluidity running the floor.
Edited By: AB