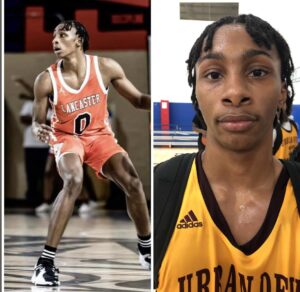 One dream, one team is all but lost in today's cultures. Kade Douglas is the proof in the pudding that if you can shoot you can play. If committed to a process, a culture of toughness, basketball IQ and the right people, good things happen.
We in the business of youth, collegiate, professional basketball can take a page from the book Kade is writing. The Lancaster Tiger and Urban DFW Elite programs are built on the foundation of hard work, competing and winning. It doesn't hurt that he sleeps under the roof with one of the best in the business Head Coach Ferrin Douglass (Lancaster High School). It is not a great surprise that he has decided to stay in the DFW Metroplex.
Head Coach Greg Young (University of Texas at Arlington) is committed to the home town talent, he gets it and looking to continue building something special for DFW area. Kade has informed me that he is continuing his education and playing career at the University of Texas at Arlington. From my (Alan Branch's) vantage point this is one of those good deals where all parties win. This all being said there could be some unfinished UIL business in Lancaster, TX. Kade's leadership and commitment is infectious and could play a major role in completing the task. Good luck and GOD bless from one of the communities favorites (Go Tigers).