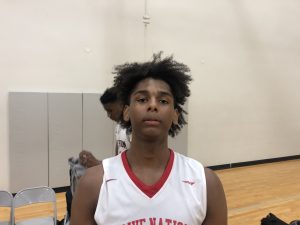 It's June and this is the time of year that TBB starts putting a focus on the rising freshman class. Here at the Advantage Sports Complex in Carrolton, I got to see several 2023 players with a promising future so let's resume on the first 2023 edition of the Freshman Report.  Ty Cox Continues to Impress.  The Universal Academy guard holds promising size, athleticism and ball skills that'll give him an smooth transition to varsity ball. Don't get me wrong, he will struggle but he holds a game that will make him an impact player. Cox is in contention for top player in his class.
Darkaun King Showcased All Around Game. 'Feel' an attribute that really stands out to the staff when we watch Darkaun play. In spots to make plays, rim runs and seals in transition to get a shot inside and passes well out of double-teams. King can shoot, dribble, pass as the future OD Wyatt Forward will be a player we continue to look at.
Aric Demings, Jaden Cofer & Ja'Kobe Walter  Produced At The Guard Spot well.Urban DFW's Aric Demings thrived in the open court as his effort on defense glass allows him to initiate the transition break which subsequently makes the defense to scramble back. Speaking of thriving in transition, Jaden Cofer got downhill and made proper reads while putting pressure on the defense. Cofer is athletic, plays hard and made plays on both ends. Was our first time getting to evaluate future McKinney Lion Ja'Kobe Walter and his size mixed with strong ball-skills and in-between game allowed him to get to spots and execute. Strung together a few big-time performances.
Notables: RJ Jones, 2023 SG – Drive Nation: Reliable shooter from deep and vertically showcased ability to finish above the rim. Cream of The Crop Alum that is progressing nicely. Drealyn Mosley, 2023 PF/SF- Drive Nation: Drealyn was effective as a finisher in the open court. He's mobile, has solid ball-skills as he was hunting for offensive rebounds. Ronald Holland, 2023 PF/SF – Drive Nation: A double-double threat. Ronald is effective as a slasher and someone that cleans up on the glass. Played with big-time effort. Isaiah Manning, 2023 PF – Crab5: Isaiah takes pride in challenging shots around the rim and collected over 5blks in the game we watched. He runs the floors hard, plays with edge and impacts the game defensively. Richard Lemboye, 2023 PF – YGC36: All over on the glass, Richard is a long, active forward that has a nose for the ball.
2024 Standouts
Deontrell Barrett, 2024 PG – ProSkills: Advanced skillset for a player in his class. Deontrell is a lefty guard that more than held his own playing up.