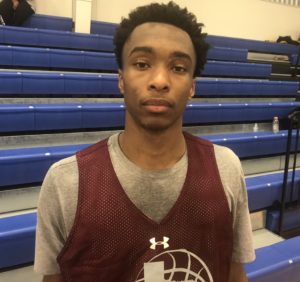 I went back to the ole stomping grounds and took a trip to Tyler, TX this past weekend for the ETX Elite Showcase. In an area where football reigns supreme, several prospects from the area possess a game that translates to the collegiate level. Plenty of size manned the courts at Cumberland Academy and we at texasboysbasketball.com are diving in and handing out our top performers from Saturday.
Cedric Kelly, 2020 PF/SF – Texas High: A prospect to definitely keep an eye on. Contains size,  athleticism, length that transfers to the next level.
Matt Wages, 2019 CG – Palestine High School: It didn't take long to find out what Mr. Wages excels in and that's score the basketball. A crafty guard that strung together consecutive strong scoring outputs.
Enoch Fatade, 2020 PG – Palestine High School: A steady, sound guard that can be given the keys to the car and drive it to safety. The Palestine native was definitely one of the top guard performer at the camp.
Michael Ruff, 2022 C – Hallsville: A developing big man equipped with broad shoulders and length. Ruff has ways to go but he is a promising prospect that the staff will keep an eye on going forward.
Daimion Collins, 2021 PF – Atlanta High School: Speaking of length, Collins bolsters a wingspan that extends past 7′. Daimion possess a high ceiling as he was arguably the top prospect at the camp and could be a top 10 player in Texas when it's all said and done.
Emma Zuberu, 2022 PF/C – Ischool High: Zuberu continues to make strides in his game. Played the role as a rim protector as he showcased a jumper that extends to 12-15 ft out.
Teraven Rhodes, 2020 Wing – Lufkin Hudson: The last time we've seen Rhodes was in the Summer as the athletic wing out of Lufkin thrived in the open court as a finisher. We can see Rhodes recruitment pick up in the next 365 days.
Charlie Powell, 2019 Wing Forward – Atlanta: Powell contributed in multiple ways at the ETX Showcase. He rebounded, finished above the rim as he can connect on shots from the perimeter when left open.
Jackson Parks, 2020 PG – Lufkin: Parks, who had a solid outing in July at the Lonestar Top 100 Camp, arrived with an improved skillset. He can get carried away and do too much but was a solid performer in the 5 v 5 games.
Logan Francis, 2020 PG – All Saints: Francis knows how to play and that was apparent in the scrimmages. Decision making, moving with a purpose, Logan utilizes his IQ to make an impact on both ends.
Edited by AB