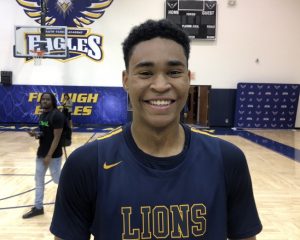 I've seen a spike in Colin Smith's production & efficiency since the start of the new year as his sophomore campaign concluded with being instrumental in St. Marks capturing an SPC State Title. Smith has been playing at his own pace, knocking down shots from deep and showing defensive versatility. One of the top players in his class, Colin updates TBB on his recruitment.
Smith holds offers from Kansas, Baylor, Oklahoma State, TCU, Texas, UCLA, Georgetown, Texas A&M, SMU, Stanford while as Purdue, Michigan & Florida State have sniffed around.
Smith has been on visits to Baylor and Oklahoma State but recently took visits to Stanford & Michigan.
"Stanford's campus is beautiful. The coaching staff was great and I got to watch them come from behind and beat Oregon. Atmosphere was great and I can definitely get a quality education there."
"Michigan had a couple players come for an official so I didn't get to spend much time with the staff. The players seem to love playing for Juwan Howard and they are fun to watch."
"I had a great time at Oklahoma State. I have a strong relationship with Mike Boynton and (Assistant Coach) Cannen Cunningham. Down to earth staff and it's a real cool environment."
"Baylor was fun. They are playing great right now and the best team in the country right now. They get the most out of their players."
Kansas HC Bill Self came to a workout at St. Marks over a month ago.
"Coach Self was impressed when he saw me. Liked my IQ, athleticism and my ability to shoot. Great having a guy like him come to your gym."
St. Marks' academic standards are high and it's very demanding academic institution. We asked Smith about how much academics will play a role in his decision.
"Obviously I want to go somewhere where the degree holds a lot of value but I don't have to go to a high academic school either. St. Marks will prepare me to go anywhere in the country so it's all a matter if it's the right fit for me to play in."
As mentioned earlier, Colin's sophomore school season has come to a close and Smith has high expectations for the spring/summer period.
"I didn't feel that I got to show all parts of my game last summer. I believe I'm one of the top players in the country and if I do my part it will be shown. I can score off the dribble, pass and make plays on both ends."
It's still too early to tell in regards where Colin will end up but we believe Stanford will be in the mix (Sidenote: Colin's sister Leilah is a 2020 Stanford volleyball signee). Michigan, Kansas, Oklahoma State, Purdue (In which he'll take a visit to Lafayette, IN in the next month or two) & Florida State, who has been in heavy pursuit as of late. A prospect with prototypical basketball frame and vertical athleticism, if Smith consistently brings it all together in the Spring, he will see an upward's motion on his stock.