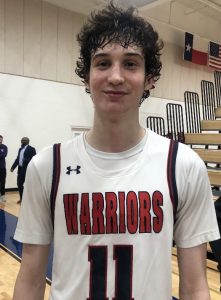 I had a chance to stop by and visit with '20 Jordan Wood about his season at SA Cornerstone Christian. Jordan is a 6'8 knock down shooter who has blossomed into a solid all around player.
He says his improved play is a result of the daily grind and practices he and his teammates would go through.
"Playing against and working with the high level caliber players on our team and on our schedule have helped me a lot. It has helped understand how to play faster and also the physicality it takes to play at a high level."
Jordan created a lot of buzz for himself playing well in several events in Las Vegas and in the DC area. College Coaches have taken notice of his versatility of being able to play off the dribble with his size as well as knock down shots and rebound. As a result he has received some interest from some Pac 12 and Conf USA schools along with a host of others. He has been offered recently by Howard Univ, American and Tulsa.  He is set to visit Tulsa late February.