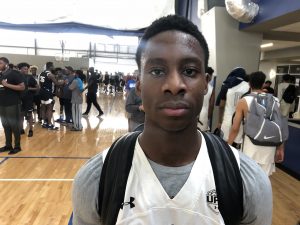 High flyer, explosive, dynamic. All descriptions of '21 Manny Obasekii's game. A strong spring/summer followed by consistent production in the school season are reasons Obaseki is a National name. We caught up with Manny after Allen's Win vs Prosper in which he had a 12pt 4th quarter to seal the win. 
"We were down in the first half and I wanted to take over in the 2nd (half) but at the same time let the game come to me," Obaseki Said. "The defense was spread out so it allowed me to attack and make plays."
In regards to his recruitment, two schools have been making a heavy push for Obaseki's services and that's Texas A&M & Oklahoma. 
The guard from Allen took an official visit to Norman and talks about his experience. 
"The visit was beautiful. The people there are very sweet and very genuine. They showed a lot of love on my visit and the coaching staff have told me over and over that i can come in and fill in the scoring role that will be missing when I graduate. The players are really cool and funny and I enjoyed hanging with them and hooped some with them as well. I loved it."
OU currently has a DFW based point guard in De'Vion Harmon who's starting for the Sooners and averaging 7.6ppg 2asts & 1.2 stls as a freshman. Manny talks about watching Harmon growing up and having the ball in his hands at Oklahoma. 
"You know it's crazy because I used to watch him growing up in person, on Ballislife, Overtime and just seeing his name on social media. Now I'm in the situation where I can do the same things and potentially better. He's doing good at Oklahoma and he gets to make plays and I feel that plays a role in me liking OU." 
"Texas A&M have been very truthful with me I feel like. They emphasize love, work & trust… trust in one another and competing for same team goal," Obaseki Said. "I've built a great relationship with the staff and they believe my skillset and my work ethic can take me to the next level." 
Obaseki talks about having the mentality to play for a Head Coach like Buzz Williams. 
"I know you have to be tough minded to play for Coach Buzz (Williams) but I definitely can and one thing I loved when talking to Coach was that he genuinely cares not just what goes on the court but off it for me and my maturation. He preaches love, work and trust like I said before and I think A&M is a place I would definitely thrive in."
Manny plans on taking an official visit to Texas A&M in the upcoming months but also has been hearing some from Texas Tech, Arkansas, Alabama, Texas, TCU and Oklahoma State was in attendance at his game vs Prosper. He's also recently received interest from Oregon, Ohio State, Depaul & UCLA. A decision potentially can come in the summer but realistically will arrive in the fall. We believe Texas A&M & Oklahoma are ahead of the pack at this stage but stay tune for news and notes on Texasboysbasketball.com