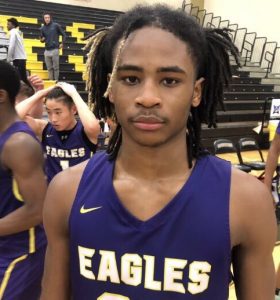 We're back with a second edition of Ani's Anatomy and although I drove over an hour long in traffic, the games were worth the drainage of miles. Let's examine and dissect. 
Head
Was a 6A doubleheader in Forney High School for the first round of the UIL State Playoffs. The first contest consisted of a highly anticipated matchup between Richardson vs Desoto. Side-note: Although I don't partake in any Twitter squabbles, I did enjoy looking at the back & forth jawing between the students of both programs and that honestly generated added excitement for me to this game. Any-who, back to the players. Richardson sealed the game at the end as the super sophomores of Cason Wallace & Rylan Griffen put on their capes and made clutch plays down the stretch. 
The second tilt was between Longview and Waco Midway with the Panthers pulling out a 62-54 win vs the Lobos. Big offensive contributions from 2020 duo Anthony Scott and UIW Signee Gods Gift was instrumental in Waco Midway being able to keep marching on. 
Eyes
Definite eye opener for me in regards to senior Tavion Carroll of Desoto. A 4-Man with offensive versatility that displayed a sound inside/out game. Size fused with skill & strong frame makes him a player that holds a translatable skill-set. 
Chest
I don't know if it'll be a continuing theme for me to get something off my chest but here goes another one.
2021 Duncan Powell provided a double-double for Desoto. His size, strength, rebounding instincts and capabilities as a stretch guy was showcased but Duncan physically was a man amongst boys and didn't consistently impose his will in the paint. In stretches he settled for contested jump-shots and albeit knocking down a few, I felt that Duncan should've exploited the size mismatch he had all game. One of the top forwards in the '21 class, In knowing Duncan, he will be using the lost as fuel for a strong club season.
But getting something off my chest isn't always me critiquing. Midway's Caden Powell is intriguing. Having grown what seems like 7 inches in the past year, the staff knows his best basketball is ahead of him. Did he make a huge Impact in this game? No. But he did show some toughness out on the floor and made small instinctual plays that we believe will pop-out once his game grows.
Heart
No denying how much heart '20 Anthony Scott possesses. He leaves it all out on the court. Having a sense of urgency to keep the opposing guards in front of him, coming victorious in 50/50 ball scenarios and fearless enough to attack and finish at the rim against big-time length. Let's not forget, he's only 5'9. Size isn't ideal in regards to next-level play but we believe Scott will figure out how to niche a role with his translatable speed, toughness and just his strong intangibles. 
Generally the point totals catch the eyes of the audience but what really impressed me with Cason Wallace was his rebounding. The staff here at TBB loves guards that rebound and Cason fought amongst the trees Desoto possesses and secured a multitude of rebounds. We also saw him numerous times fighting post players for position on the block and forcing them into tough, contested shots and honestly, that shows a lot of heart in my opinion. 
Elbow 
Every time I saw George Mason Signee Malik Henry sky for a rebound, his elbows appear to be above the rim. Henry's ability to get to the apex of his jump quickly allowed him to secure a plethora amount of rebounds, modify shots around the basket and excel in a clean-up duty role after recovering miss shots and finishing it with dunks. 
Continuing to talk about elbows above the rim, '21 Chrisdon Morgan for Desoto utilized his length to snatch rebounds and alter shots. The next 12months will be a big one for Morgan because he still hasn't put the pieces together yet but slowly, the picture has started to form. I believe he'll have a Jonathan Sanu'ish type year where his recruitment will heavily pick-up during his senior yr with coaches searching for a bouncy big with plus length. We'll take a look back at this article in a year and hopefully I look more like a fortune teller than a dummy. 
Hands
Oooooohhhhhweeeee Rylan Griffen had the hot hand in Richardson's win. The standout guard finished with 29pts and he showcased his ability as a 3-level scorer. Connected on shots from beyond the three point arc, exhibiting a nice mid-range game & finishing in traffic when the lanes were present. Griffen is a no brainer top 5 player in his class and it showed on Monday night. 
Toes
Richardson kept their toes down as they weathered the early storm Desoto casted on them. Earlier we talked about the dynamic duo of Cason Wallace and Rylan Griffen but it was the last two minutes that was the most telling. They went on their own 14-2 run in the last two minutes of the game in which the match was tied 49 all. The old adage goes 'Big time players make big time plays' and that's what those boys did in the crunch time of the playoffs.