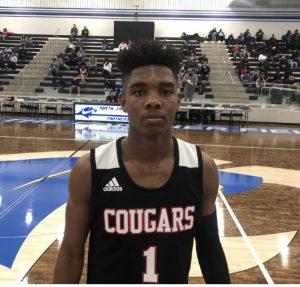 The school season is in its final stages as it's playoff time in the Lone Star State. In the first ever edition of 'Ani's Anatomy' I hand out my thoughts through a competitive contest between Ischool & Universal Academy in which there was no shortage of recruitable prospects on hand. 
The Head
As UIL playoffs loom and a day where the seniors were honored by their respective home crowds, one of the headlined matchups in the DFW on Tuesday night  featured two of the premier teams in the area. The first go-around needed 6 quarters to peg a winner as Ischool secured a victory. This second tilt required one overtime as Universal Academy held on for a 65-61 win. Assistants from St. John's & Dallas Baptist we're in attendance.
Shoulder
A group of players helped shoulder the load for Universal as 2020 Kylil Anderson led the way with 16pts as he attacked in the open court and finished through contact. Junior Will Shepherd tallied 12pts and is a prospect that is showing a game that translates. A player worth tracking from now till summer's end. 2021 post Shakiru Odenuwu provided 9pts 3blks and was the most impactful post-man tonight. "Shaq" as he's called by his teammates has improved noticeably. Moving better, getting up and down the floor, utilizing size and generating gravity from the defense with every touch he secured on the block. The depth of big men in the '21 class isn't very strong compared to previous years but a player like Odenuwu with a big frame and can pin his man deep on the block is intriguing. 
For Ischool, Indiana State Signee, Julian Larry shouldered the offensive load especially with 2020 Wing Quevian Adger in foul trouble. Finishing with floaters/runners over the outreach of the opposing big men. Julian's definitely has good feel as a passer, seeing the play develop before it develops and finding his teammates in stride. Will be a good piece for Greg Lansing.
Early scoring was provided by senior big man Austin Lewis. A stretch big that showcased touch around the rim and beyond the arc. An available player with legit size and promising skill. Also worth noting was 2020 Jay Wilson. A stocky forward that was mixing it up inside. Jay's motor and toughness has taken a 180 and its equating to production. 
Chest 
I want to get this off my chest and the first part of the statement is fairly obvious. When it comes to pure talent, just the physical tools their equipped with, seniors JaQuan Scott (Universal Academy) & Quevian Adger (Ischool) can play at a higher-end division one level. 
Albeit Ischool & Universal Academy having only battled it out just four times…. ever, this game already has a rivalry feel to it. Intense crowds, the jawing back and forth amongst the players, the contests going down to the wire to decide a winner, so with that being said, I was looking for both players to impose their will. I left wanting more. 
Spurts was the theme here. As mentioned earlier, Quevian was in foul trouble and ultimately fouled out. First half was forgettable but was instrumental in a 9-0 run to start the 2nd half for the Cougars in which all 9pts were collected by him. A natural scorer from the perimeter that's one of the best one on one offense generators in the 2020 class. 
Scott just made plays here and there. Either that was finishing above the rim inside, skyrocketing for a rebound outside of his area, or attacking off the top of the key and producing a clean look. His broad frame combined with his athleticism and touch from 10-15ft out makes Scott a handful to guard inside. 
In hindsight, it's one game and at this point I could guesstimate that I've seen both players perform 100x so Ive seen them at their best and at their worst but with the scholastic season in its "Curtain Call" phase I selfishly did want what could potentially be my last viewing of them to be memorable.