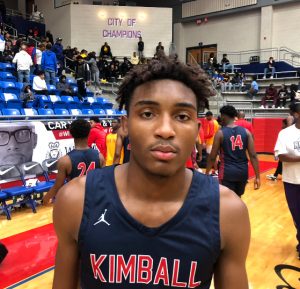 A name that has seen a turbo charged up-stick in his rankings not only statewide but also nationally has been 2022 Arterio Morris. In-state programs such as Texas Tech, TCU, SMU, SFA & Texas A&M have offered as well as Big12 Powerhouse Kansas & #13 ranked Oregon. We caught up with the premier guard after leading Kimball to Regional Quarterfinal win vs Newman Smith
"I know last year they lost in the third round so I wanted to make sure we advance past this point and go win a state title."
Arterio got on a roll early, connecting on two triples, unleashing his speed in the open court which either finished with him laying the ball up or finding his teammates in stride. Morris' positional size, court vision mixed with shifty handle & explosiveness was on display Tuesday night. 
The Kimball guard talks about consuming the role as a leader and how it was something new for him. 
"It wasn't a role I thought I would be in coming in my first year but I know the guys look at me when we really need to score," Morris said. "I know they play off my motor so if I'm engaged, the team really gets going, if not, we don't play as hard."
As said earlier, Arterio's recruitment saw a large spike in the past 4 months.
"I kinda was an unknown in my 9th grade year and now as a sophomore a lot of schools have shown interest and offered. I'm happy I'm able to show my game and people have taken notice."
Morris talks about Memphis, Texas A&M, & Kansas. 
Texas A&M
Texas A&M reached out to my coach before the last game and wanted me to "ball out for the Aggies," and that was some motivation but I feel like i did just that (Scored 36pts in 2nd Round game).
Kansas
Kansas reaches out to my coach a lot and they are a place I would like to go visit. They are #1 in the country right now and I could see myself playing there.
Memphis
They haven't offered me yet but they have shown interest for a while. They send my coach pictures of their facility and their program. I want to go visit there and it would be great playing out there. 
Morris received news that he was invited to USA Basketball Mini-Camp this April during Final 4 Weekend and he talks to TBB about his reaction. 
"My mom actually 'pulled up' on me and told me. I didn't think I would get an invite but she came up to me and told me that this is what my hardwork has turned to."
It's still too early to tell in regards to recruitment for Arterio. A to-this-day prediction is If Memphis makes a hard push they'll definitely be near the top. Kansas and also In state programs such as Texas A&M, TCU & Texas Tech we foresee will be right there for Morris also. 
*Live Period news
Our Annual Lonestar Challenge and Junior Lonestar Challenge will take place April 17-19. Registration is rolling for both events. Sign up now at Texasgrassrootsbasketball.org.