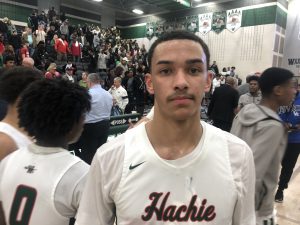 There's no question about the talent '21 guard Jalen Lake possesses. Good positional size, length mixed with IQ & fluid perimeter stroke. 
In a premier matchup between two state ranked 6A programs last week, Jalen Lake's 15pt 4blk performance vs Grand Prairie was beneficial in Waxhachie's win. 
"My mindset was to come in aggressive and tough out the gate," Lake said. "It showed on both ends today and we got the win."
Jalen embraced the moment and constructed one of the most efficient and translatable games we've seen him orchestrate this season. Smoothness on his shot while showing versatility and a sense of urgency to make the right play was on display. 
Recruitment 
Lake offer sheet consists of UT Arlington, Troy, Buffalo & Oral Roberts. Belmont, Northwestern & Texas A&M have shown interests.
"Troy has been pursuing me pretty hard. They like my ability to shoot and they think I'm tough enough to play for them," Lake said. "I plan on taking an official visit their after the season."
"UTA also likes my ability to really shoot and think I've made strides in my ability to score off the bounce."
The next 4-5 months will be very telling for Jalen as a consistent string of big-time performances could make Lake a priority for Power 5 Coaches. 
"I have to show more toughness and the ability to rebound. It's big for me to make shots but also show other aspects in my game like my passing and ability to score off the dribble." 
Waxhachie could make a big playoff push although the road to San Antonio contains a path of formidable foes on the way. We will keep track of Jalen's performances along the way as he could hold a national label by summer's end.