(*Slightly Off Topic) What's ironic about 'Ani's Anatomy' is I had a disdain taste for studying the human body in school. However, there weren't very many classes that piqued my interest period but anytime I can inject basketball into the subject, I was attentive.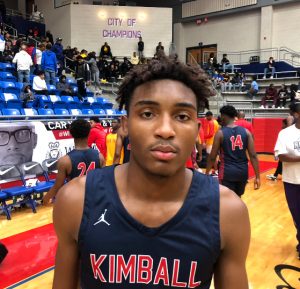 Any-who, lets get to the topic at hand and that was my week of covering playoff basketball in the Lone Star State. From Dallas to Houston and not only just covering UIL solely, I also had the chance to take a look at the Trinity League Championships going on during the week. So let the examination begin.
Head
Heading into last week, I knew I would catch a slew of games as the first stop was to Naaman Forest to catch the at-the-time undefeated Carrolton Newman Smith vs Kimball. Then started my Friday with 2 games at Trinity Basin Prep, continuing with 5A Regional Double Header at the Curtis Culwell Center. A smooth drive to Clutch City for John Lucas All Star Weekend (More on that soon) as I was also able to catch the highly anticipated regional final match-up between Fort Bend Hightower & Shadow Creek
Eyes
This section will have two functions for the eye. First is who really caught my eye and that was '20 Jamarion Brown of Mount Pleasant. In a Regional Semi's bout with Kimball, Brown took the lead in a comeback attempt vs the Knights. A high-energy, athletic forward that possesses strong intangibles. He finished in the open court, took the ball to the teeth of the defense and defensively utilized his length to collect steals. A player that will/should be rocking a collegiate uniform next basketball season.
Junior Corey Flowers also impressed me. In Kimball's Regional Quarterfinal match-up vs Newman Smith, Flowers was influential in the victory. He played with a lot of energy which allowed the forward to gain offensive rebounds and generate baskets inside. When Corey is playing with a vast amount of effort and looking to effect shots inside, he becomes a difference maker for his team. Will be the theme on how his Spring/Summer outcome goes.
Next with the eyes is vision and look (No pun intended), Bryce Griggs is heralded for his scoring and rightfully so, especially when 40pt outings become another day in the office for him. However, Bryce's vision and passing is on par with his scoring capabilities. Being able to make pin-point passes in tight spaces, seeing the play develop early and making the right read, Griggs can effect the game with his passing which opens the game up for him to score.
Legacy School of Sports Science's season is night and day compared to last year. With 1. A singular win season and  2. An early exit in 2019 at the Trinity League Tournament, Legacy's fortunes turned as they 1. Reached the championship game this year and 2. The win totals more than doubled. The addition of PJ Neal was a key piece to the puzzle as his ability to make plays for others was definitely noticeable. Neal has always been a very willing passer but now has shown more of an intent to get downhill and put pressure on the defense which has allowed him to find the open man more often.
Ears
A piece of advise that Alan Branch gave me when I started working for TBB was, "If you do more seeing and hearing and do less talking, you'll have a chance to be successful in this industry." That's something I still try to apply to this day but where I'm getting at is with the two freshmen from Mount Pleasant. Payton Chism  and Kelcey Morris held their own in a large stage at Curtis Culwell Center for the Regional Semis against Kimball. Chism didn't hit shots efficiently but was the primary ball-handler and did a solid job managing pace and handling pressure. Morris is a speedy guard that packs a scoring punch in which jump-started the Tigers in the third quarter to condense a 15pt lead to 5 going into the fourth.
Honestly, ears & eyes are intertwined here but they're young, equipped with talent/upside and I believe both guards have a chance to be next level players once their high school careers are over. A lot of listening to the right guys, watching basketball and compound that with work in the gym, will have both of them to their destination at the end.
Shoulders
Albeit the game not ending in their favor, Shadow Creek's 2021 Duo in Ramon Walker (25pts) & Will Young (30pts) shouldered the load and kept the Sharks within striking distance vs Hightower. Young was connecting on shots from deep, which also created driving lanes for himself and his teammates. Walker utilized his size mixed with steady handle, plus feel & touch to finish inside as he also made shots from 15ft out. Walker Received an offer from University of Houston the next day as we expect both players to have big grassroots basketball seasons this year.
We did a recruitment look at Arterio Morris here and he talked about being in a leadership role in his first year at Kimball. We got to catch two games in his team's playoff run and 'Terrio' did a sound job helping shoulder the offensive load for the Knights. A premier guard that was able to capitalize on one on one offense due to his explosiveness, ball-on-a-string handle and capabilities as a shooter from the perimeter. One of the best players in his class, when things are clicking for Morris, he isn't only dynamic as a scorer but also as a passer. Another player to note is Senior Marcus Bonner who orchestrated two very solid scoring outputs in both games I watched. Definitely a player that fits the mold of a wing we see at Region 5 or Region XIV level.
Universal Academy secured a Trinity League State Title and the top available player in JaQuan Scott was a difference maker for UA. He was active on the glass, utilizing his athleticism to sky for the ball over the out-reach of defenders. He also used his size to gain position inside and finish. Scott displayed a very polished game on Friday and continued his performance the next day in front of our staff subsequently earned him MVP of the tournament.
Heart
We've been evaluating 2020 Nate Lacewell for several years now and as mentioned on our social media platforms, we were impressed with the improved toughness he displayed on the court on Friday at the Trinity League State Tournament. His improvement is one reason for Legacy's improvement as he's starting to embrace contact better, hunt for rebounds and not get rattled by physicality. He's by no means a finish product but he's playing with more heart and his best basketball is ahead of him. Arkansas Little Rock and Collin County came to see him play this past weekend.
Chest
Typically in journalism the inverted pyramid is applied as the 'main course' is served in the beginning of the article but I wanted to be a tad unconventional and save the best for last.
I'm going to get this off my chest;  If I had to pick a 2022 player  in Texas today to win me a basketball game, I'm picking Bryce Griggs. There hasn't been a stage too big for the sophomore guard as he embraces the challenges in front of him and orchestrates a high-level performance. Either that was in Dallas during the Thanksgiving Holidays in which  he scored 40pts and the game-winner vs Lewisville or even more recently vs Shadow Creek in which he scored 43 points, recorded 8 dimes and put his team on his back in order to make the Final 4 of the 5A State Tournament. As a whole, the staff has seen more of these outlier performances from Griggs but have seen him struggle as well. Regardless, Bryce deserves to be in the conversation as the top 2022 player in Texas.
*Live Period news
Our Annual Lonestar Challenge and Junior Lonestar Challenge will take place April 17-19. Registration is rolling for both events. Sign up now at Texasgrassrootsbasketball.org.