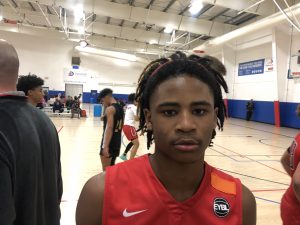 The Club Season edition of the Freshman Report is in full swing. A lot of basketball has already been played and April just arrived. On this edition we note the top freshman performers in our time in Houston, Austin, DFW and in the country roads of East Texas.

Austin Nunez, Vincent Iwuchukwu Impressed in Houston

Spring IceBreaker the debut for Freshman Austin Nunez in the 17U level for Texas Hardwork and he showed he can more than hold his own. Hit shots from deep, compete defensively and managed the pressure thrown at him in the backcourt. Vincent as noted in our Houston piece was an active contributor on the glass and a imposing interior defender.

Griggs… Bryce Griggs

A familiar name in the 2022 class, Griggs was influential in Team Harden going 3-0 at the MI3 Center. His ability to break down defenses off the dribble and produce in tight moments is why he is a big-time prospect at an early age.
Agarwal is Coming Along, Naz Brown and Anthony Black Are As Well
The talk about 3D is geared towards the 17U group and rightfully so, but the 15's contain next level prospects as well. Forward Ryan Agarwal provided sharpshooting as he knocked down shots from deep in consecutive fashion. Guard Nazir Brown is steady at the guard spot. He shoots it with range and scores within the flow of the offense as he plays sound individual defense. Black created havoc in the press. Deflected passes, racking up steals and accumulated his points via the open court. Three players that will be in our rankings this spring.
Drive Nation 2022
Man Drive Nations 15U group looks like a formidable 17U squad. Carry a lot of size and a beavy of prospects. Forward Colin Smith was a big-time addition as his athleticism mixed with a sound overall skillset make him a tough cover. Big man Lee Dort is massive. An imposing presence inside that gave opposing defenses fits. 4A State MVP Trae Clayton possess a strong inside/out game and the backcourt of Keyonte George & Noah Shelby provide spacing and strong play in the 1 & 2 spots.

Duo From Amarillo

A scouts attention normally gravitates when a prospect in the 6'9ish range step onto the court and Cade Hornecker play on the court kept my eyes glued. A mobile big man that finished around the rim and rebound, Hornecker definitely belongs amongst the top 2022 big man in his class. Guard Brendan Hausen was productive as well in Duncanville, holds good positional size and can get hot from deep. Both have heard from Virginia, Tech, Baylor, Texas A&M ,TCU  & Troy. Both prospects attend Amarillo High School and the staff will definitely keep tabs on the promising duo.

Crab5's 16's Came to Play

It was a coming out party of sorts for Crab5's 16U group. A 2-0 record on Saturday in Duncanville and we got a chance to analyze the 2022 prospects on hand. Joe Lucas is an attacking guard that allowed his aggressiveness to subsequently lead to a bucket. Wing Jaden Lawton's vertical explosiveness stood out very quickly during play. A highlight poster dunk in their first game on Saturday was the exclamation point to a hard fought win vs the Gators. Micah Clark is a forward that contains a skill bag mixed with an assortment of ingredients. Can defend multiple spots, handle in the open court and was hitting jumpers when left open.

Morris, Henderson Headline Showtyme's 15U Group

Started in Fort Worth for me when on the far end court I see a guard go coast-to-coast for an emphatic jam amongst the trees in the frontline. Again, my eyes naturally gravitated toward that court but  Arterio Morris of Lincoln HS is more than a dunker. An talented guard that can make plays for himself and others. Morris game isn't complete by any means but big-time athleticism mixed with a tight handle and sound vision allows him to have a chance in this game. Out of Kimball, Kyron Henderson was a terror for opposing frontline players. He plays with a constant, hard motor as well as being able to alter shots & finish around the rim due to his length. We paid attention to his two-way production.

Notables

Cason Wallace, 2022 CG – ProSkills 16U: A heady guard that gets downhill. Wallace found a groove in his 2nd outing at Duncanville and was a handful for the opposing defense.

Trey Cheatem, 2022 Wing – FOE 2022: Trey's evolution in the past year as a dependable ballhandler and decision maker has been noted here. Know for his athleticism, Trey's Live dribble game allowed him to get to the rim.

David Ruff, 2022 C – Ballers Nation: The big man out of East Texas is intriguing. Has grown 2 inches since we last saw him at Pangos Camp in October. A big man that has the potential to be a late bloomer when it's all said and done.

Dreyon Barrett, 2022 SF – Palestine HS: The lefty out in Palestine as the physical tools of becoming a next level prospect. As long as he continues to groom his skillset, could be a name that pops up in for coaches in time.