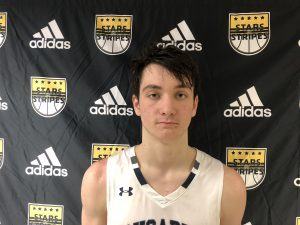 Spent some time last weekend at Houston Christian for the Stars & Stripes Showcase which was ran by Teddy Wheeler. Good competition, a solid amount of D1 talent and a couple names that we were able to add in our database. 
-Generally tougher for players to get up & be ready for morning battles but 2021 Tyler Pinder was laser focused tallying 45pts in RLTC's win vs JL Academy from Australia
–Pinder scored primarily off the bounce, showcasing promising live-dribble game. 
-St. Thomas Episcopal took a commanding lead in the second half and defeated St. Andrews. STE was paced by the three headed guard monster of '21 JaKobe Flores (19pts), '20 Melvin Holloway (16pts) & Tyler Thomas (14pts). The trip made a combined 6 triples and knifed their way to the paint. 
-Was impressed by '21 Zion Granville of FB Christian. Lanky lefty forward with a quick first step. Definitely a collegiate prospect but needs to continue to polish skillset. 
-Junior Owen Larocca showcased his flamethrower of a jumpshot. Connected on six trey balls and showcased versatility as a shooter.
-For St. Thomas, albeit '23 Jake Pike's box score stats not popping out, he showed some promise as a stretch 4-man with good IQ. We will continue to take a look at him going forward. 
-It was a dog-fight in the Universal Academy v Concordia Lutheran matchup. UA erased a 15pt deficit and captured the win. 
-'21 RJ Keene was lights out from three. Showing extended range on his jumper with combination of size & quick trigger. Holds UIW & SFA offer. Hearing from Belmont, Princeton, Baylor, UNT, Roy, Lafayette, UTSA, RICE & Texas A&M, Santa Clara, BYU, Purdue, Illinois. 
-'22 Adam Stewart showed some fight in the paint. Once he got the memo of the aggression of the game, he started rebounding, altering shots around the rim & finishing through contact. Utah State, BYU, UofH, Baylor, Stanford, Princeton, Harvard, Utah have reached out.
-For Universal, Freshman Ty Cox has to be in the conversation with best player in his class. He made shots from deep, competes on defensive end and is a solid decision maker. Cox has more than held his own vs a bevy of higher end opponents on the varsity level and currently averaging 17ppg for The Eagles.
-Seniors JaQuan Scott & Misiel Teklai also were influential in UA's run. Scott started stringing points from 12ft in & Teklai connected from jumpers from deep. 
-Another dog-fightish contest was between Bishop Lynch & Houston Christian. Houston Christian secured the victory with the help of '21 Noah Kon (attack-dog mentality, getting to cup, defensive impact), '21 Kobe Haynes (playmaking & shot creation) & '20 Austin Smith (Good rebounding instincts, X-Factor). 
-For Bishop Lynch, '21 Imo Essien arguably had the one of the best performances on Saturday. Consistently able to hit open shots, broke down defender off the bounce and able to finish vs length. Imo has put his name in the conversation as best point guard in 2021. 
-Can't take away what William & Mary Signee Jake Milkereit provides for Bishop Lynch. Shot the ball from deep and was the secondary ballhandler for the Friars. Jake has had a strong scholastic season thus far. 
-Cornerstone Christian ran away in their tilt vs Woodlands Christian.
-'21 Christian Green has been coming to his own. Playing with motor, hunting for rebounds and being effective as a slasher. 
-'22 Austin Nunez was very solid from the field. Hit a couple of triples, showcased athleticism in open court & craftiness as a finisher. 
-Sophomore Tre White struggled scoring with efficiency but he showed bounce back and finished the second half strong. 
-Junior Jerrell Colbert imposed his will as a rim protector. 11 blocks to go with double digit rebounds. 
-For the Woodlands, Senior Bakari Lastrap stood-out. Scored off the dribble, sees the floor, and holds a promising shooting stroke. 
-Austin Benigni is quick off the bounce. Showed ability to get the rim and provided consistent offense. 
-Westbury Christian defeated Crosby in the finale of Stars & Stripes. 
-'21 Ja'Vier Francis showcased why he's a high-end Division one prospect. Accomplished a triple double with a whopping 14blks. Receiving many calls on Francis. 
-Junior Chris Felix was steady as well. Showed solid intermediate game, plays defense with length. 
-2022 Sean Elkinton for Crosby had a strong night with a 16pt 11reb double double. High motor, embraces contact. Showed some inside/out ability. 
-Soph. PJ Haggarty was solid. Definitely can provide a scoring punch but couldn't find a consistent rhythm. Still one of the most electric guards in 2022 class.