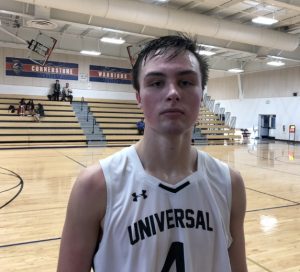 Drove down to the Alamo City for the inaugural Warrior Classic hosted by Cornerstone Christian. Three schools from Florida came to battle it out against three  premier teams out of Texas. A lot of talent was on hand for this one. Let's dive in!
Texas Performers
Micah Peavy, 2020 Wing – Duncanville: Texas Tech Signee led Duncanville to a 2-0 record in San Antonio. His playmaking abilities combined with size, athleticism and improved shot-creation makes Peavy a matchup problem for opposing defenses. 
Damon Nicholas, 2021 SG – Duncanville: Nicholas brought steady offensive production for the Panthers. Moves to spots to generate clean looks for himself & teammates as well as connect on shots on the move & bounce. 
Tre White, 2022 SG – Cornerstone Christian: The Kansas Commit has a knack for putting the ball in the hole. Showed ability to score on three levels and held own defensively. 
2020 Available Analysis
JaBryant Hill, 2020 PG – Duncanville: Speedy guard that got to the teeth of the defense and made sound decisions with the ball. Albeit on small end for ideal positional size, Hill possesses tools that translate the collegiate level. 
Misiel Teklai 2020 PG – Universal Academy: Guard that packs a scoring punch. Teklai has made strides as a floor leader but showed ability to generate own look. 
JaQuan Scott, 2020 PF – Universal Academy: Was up & down showing for Scott. Fouled out in 10min vs Victory Rock on Friday but came alive in the 2nd half vs The Rock on Saturday accumulating 11pts. Even with struggles, Scott in stretches showed why he is a top 20 talent in the state and one of the top available players in Texas. 
Improved Stock
Will Shepherd, 2021 PF – Universal Academy: Shepherd averaged 15ppg this weekend as he shot 50% from three point land. A stretch forward that has made noticeable strides as a rebounder and team defender. 
Christian Green, 2021 CF – Cornerstone Christian: Two strong outings for Green. Excelled at getting to the cup, absorbing contact & finishing. Christian made presence on both ends of the court this weekend. 
CJ Ford, 2022 PG – Duncanville: Ford compiled an impressive game vs The Rock. He initiated the offense, made shots from deep and was pesky on defensive end. 
Juan Reyna, 2021 CG – Duncanville: One would say Reyna's 31pt outing at The Cowtown Tip-off would be his coming out party of sorts but at The Warrior Classic, Juan displayed other layers to his game. We know he can really shoot the basketball & possesses deep range but this weekend he made very solid decisions with the ball off the bounce. Passes on drives and nice touch in intermediate area.
Jordan Woods, 2020 PF – Cornerstone: In Wichita Falls, Woods didn't have his best of showings but this past weekend Jordan came out in attack mode. Connecting on shots from the perimeter but also embracing contact and finishing. Tulsa & UTSA came to see him. 
Texas Underclassman Look
Ty Cox, 2023 CG – Universal Academy: Best 2023 performer in the showcase. Constructed a 17pt outing vs a tough Victory Rock program and followed with a solid showing vs The Rock. Big, strong guard with immense upside. 
Croix Cox, 2023 PF – Universal Academy: Physicality overwhelmed Croix at times but showed flashes of a forward with an effective inside game. 
Ronald Holland, 2023 PF – Duncanville: Hunter for rebounds on both ends. Gives big time energy and sound production with minutes. 
Cameron Barnes, 2023 PF/C – Duncanville: My first good look of Cameron post-injury and he was solid. Used length to alter shots, mobile and has a promising perimeter jumper. 
Austin Nunez, 2022 PG – Cornerstone Christian: Foul-trouble was his cryptonite as he couldn't  consistently get in a rhythm. However, Austin generated good looks for himself & teammates and has made strides on defensive intent as well. 
Notable Florida Performers
Jalen Speer, 2020 PG – The Rock: A overall sound performance for The FAMU Commit. Deep range on jumper, got to his spots and made plays.
Mayoum Mayoum, 2020 PG – Pottershouse: Big-time athlete that has massively improved handle since he first arrived from Australia. Athleticism mixed with strong frame and stable handle allowed himself to score plenty of times around the rim. 
RJ Jones, 2024 Forward – The Rock (FL): Even as an 8th Grader, Jones more than held his own in varsity play. Made shots from the perimeter, showed touch inside as he averaged a near double double in two games. Has a chance to be a household name in a few years. 
Prince Mosengo, 2022 Forward – Victory Rock (FL): Very intrigued by Mosengo. Even before the game starts you see a kid with great length, good size and walks with some swagger. On the court, Mosengo got things done on both ends. Showed versatility as a defender and on the offensive end displayed a promising inside/out game. 
Kyle Duke, 2021 CG – The Rock:The guard out of Canada was effective either as a primary & secondary ballhandler. Made plays in pick & roll as he showed patience surveying the floor.