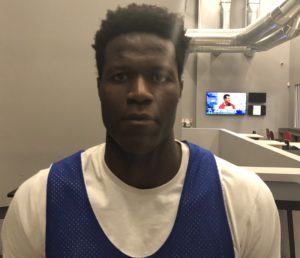 The 2018 Edition of the Lonestar Top 100 Camp provided live stats as all the games were streamed as well. A mass amount of Division 1 prospects were on hand at The Drive Nation Facility as college coaches also were present to find their next player. The TBB staff takes a look at the top standouts from the Lonestar Top 100 Camp. Texas Boys Basketball are excited about our new set of eyes. Rob Wright brings as much experience walking in the country. Once again we are excited to expand the wisdom.
Sam Freeman, 2019 C: Freeman was physical inside, throwing his body around and showcasing an improved game on the block. Sam will see a rise in his rankings when the updated list comes out. Freeman has been very impressive in the past 30 days.
Marcus Sasser, 2019 PG: Sasser on Wednesday made the right plays. He displayed his ability to score at a high clip as the talented guard out of Red Oak is primed for a huge July.
Terrell Williams, 2019 Wing: Williams is another prospect that has a chance to blow up in the July Live Period. Williams has good positional size and at the Lonestar Top 100 Camp showcased more of his game.
Djibril Diange, 2019 PF: Arguably the best prospect at the camp. When you combine his size, skill and athleticism, Diange is a definite D1 prospect. Competed and impacted the games he played on both ends.
Javveon Coleman, 2020 SF/PF: The forward out of Desoto caught the staff's eyes about two weeks ago and at the Lonestar Top 100 Camp, he strung together a few strong performances on Wednesday. Coleman is long, has a nice game 15 ft in as he is a prospect that college coaches will need to take a look at.
Toney Green, 2021 Wing: Green has a strong frame and the rising sophomore knows how to use it. Green finished through contact, competed on the defensive end and the promising wing out of Fort Worth OD Wyatt caught our eye at the camp.
Scottie Turner, 2019 Wing: Turner's size and built pops out as the strong wing out of Tyler, TX played with a lot of energy, blocked shots, showed a promising looking jumper and hunted for rebounds.
Jayden Colleymore, 2020 Wing: A very intriguing prospect for the staff  Jayden Colleymore out of Cinco Ranch. He has a good body, a nice scoring package and showed why he is a top 40 prospect in his class with his performances at the Lonestar Top 100 Camp.
Francisco Cicalese, 2019 PF: Cicalese is skilled and the forward for D1 Houston shined at the Lonestar Top 100 Camp. Francisco exhibited a solid in and out game and strung together a double double in the game we watched.
Angel Dibwa, 2020 C: Dibwa impossed his will in Wednesday's action at Drive Nation. The big man for Urban DFW finished above the rim when the opportunity was present and finished around the basket well.
Jalin Conyers, 2020 SF: Conyers is an intriguing prospect out of West Texas. He's strong, can do a little bit of everything on the court as he put together a very solid outing this week at camp.
Leroy Adderley, 2019 SF: Adderley first caught my eye with a two handed jam on a defender. Leroy is athletic, Plays hard and flies up and down the court.
Edited By AB