The grassroots season has come to a close and as we shift gears to camps (Cream of The Crop, Southwest Regional) and the scholastic season on the horizon, we gather our notes from a busy spring/summer in Texas. Recruitment, analysis, expectations and more tidbits your way from the staff at Texasboysbasketball.com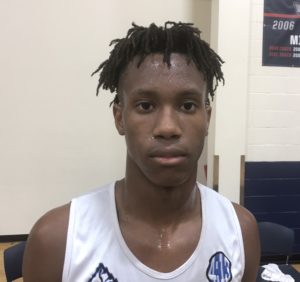 Texas Impact 4:13
2020 big man Jonathan Aku more than held his own at the 17U level. Received offers from Texas A&M, LSU & Tulsa.
KJ Cunningham's stock rose in the summer. Talented, steady guard that produces on a consistent basis. Holds offers from Weber State, Tulsa, Longwood and several more.
2019 Joshua Miller had an up and down season. Finished out strong against D1 Minnesota in Vegas. A player that we expect to have a big season at Red Oak.
2019 Trezarian White played the  "Jaylan Walker" role for Impact. Undersized but a animal on the glass, and a prospect that makes plays on the court.
Texas Hardwork
The July addition of 2019 Will Baker was a piece to help make UAA Finals run for Hardwork. Baker showcased why he is one of the top players in his class.
2021 KJ Adams game has made long strides. One of the premier prospects in his class.
2020 Micah Peavy displayed a versatile skill-set. He is treading the right direction and kept his Top 10 status.
Hardwork possess a promising young but experienced crop with KJ Adams, 21's Langston Love, Joseph Venzent, Coleton Benson & 2022 Austin Nunez.
Houston Hoops
The Hoops went 8-4 with the addition of Kentucky Commit Tyrese Maxey during the EYBL Sessions. Maxey cemented his status as the top player in Texas.
2020 JaQuan Scott saw a fast rise in the rankings with his play. Played with grit, showcased more elements to his game as he received offers from Illinois and TCU.
15U Team won Peach Jam. See a lot of promise in 2021 Connor Redrow. 21's Devin Martin & Reuben Fatheree anchored frontline this season.
2019 Donovan Williams exploded onto the scenes. Great showing at the NBPA Top 100 Camp – impactful two-way wing that the staff has been high on since the scholastic season. Texas is favorites to land the talented wing.
Dallas Showtyme
An incredible July! Wins over Houston Hoops, Drive Nation, YGC36 were spearheaded by stellar play from 2019 Tre Jones and Cobe Williams. 2019 Kimball product Deaunte Lee was a threat from deep.
the 2018 Summer edition of Erven "Big E" Davis' Guard Factory didn't disappoint. Tre Darthard, Lee and Williams were a handful for opposing backcourt prospects.
2019 Xavier Cork out of Sulphur Springs contributed in several ways for Showtyme. On the boards, swatting shots, being a vertical spacer. Holds offer from Texas State
Kenyawn Bowie, who was a solid contributor in the paint throughout the season received an offer from Mississippi Valley State. Strong, rugged front-line prospect that uses strength to create angels.
Urban ASAK
2020 Jamal Shead is a fearless, confident play-maker. Making case for being top 10 player in 2020 class.
2019 Darius McBride was efficient on the floor. Made a statement as a top 40 prospect in his class. Texas State, Incarnate Word, Sam Houston, Denver, Brown, Hartford, UT Permian Basin have offered the talented wing out of Austin.
Urban DFW
2019 Marcus Sasser continued strong school season with an even stronger grassroots stint. SMU, Houston, UTEP & Colorado State consist his top 4. SMU & Houston according to sources are front-runners.
2021 Wade Taylor produced at the 17U level for Urban DFW.  Top 10 player in 2021 class.
Another big contributor on the 17U team was Duncan Powell. Widening his game and showcased game that translates.
After a stellar UIL State Championship performance for Dallas Carter;  2019 Zahad Munford compiled a string of  steady of performances in the summer as the 2-guard committed to Grambling State.
BMM
2020 Caleb Lohner started out the season with high level scoring outings. Pushing into the top 5 in the class. Up and down July but still one of the best prospects in his class.
2020 Quevian Adger is equipped with ample amount of talent. Plays with a lot of emotion which can work for him and against him at times. Received an offer from Central Connecticut in April, Creighton in July.
21′ Elijah Taylor manned the point. Steady, dependable guard that will crack our top 30. 2020 KJ Pruitt was added in July as he played downhill with the ball in his hands. Interesting to see when he will turn the corner.
2019 Le'Jon Doss received and committed to UTSA. High motor forward that has ability to be a glue guy for the Road Runners.
Drive Nation 17U

Samuell Williamson by the spring could become the top player in 2019. Has refined his game and hasn't shown a glaring weakness. Released top 10 Schools, could he go to his mom's Alma Mater (Kansas)?
Montavious Murphy committed to Kansas State. Wildcats were named front runner in June and actually gave a verbal in June according to sources. Murphy provides an intriguing inside and out scoring package.
2019 Drew Timme edged in the battle against other top big man Will Baker. Timme's production hasn't gone unnoticed to the staff and the country. Has released his top 10 schools as well. Front-line teammate 2019 Victor Iwuakor has been a priority for high major programs. Received 6 offers since July (LSU, Oregon, TCU, Illinois, Florida, Georgia. Arkansas is considered favorites according to sources.
2019 Avery Anderson's production was up and down. When playing with confidence,  he is one of the premier guards in his class. Oklahoma State, LSU are considered favorites.
2019 Jahmius Ramsey generates issues for opposing defenders. Strong, relentless scorer that told the staff he will make his decision in the Spring of 2019
NXT Level Raiders
Love what 21′ Zachary Clemence brings to the table. Big man that can shoot it, is skilled and could be a top prospect in his class when it's all said and done. Will be heading to Findlay Prep in the Fall.
Byron Armstrong – another 2021 is a big game performer. Aggressive scorer with a good feel.
Texas Pro
In what maybe considered a down year for Marland Lowe's group – Texas Pro still possessed prospects that are on the staff's radar.
2019 Delore Johnson was a consistent producer on several categories. Garnered Sam Houston State offer and received Longwood offer after strong outings at the Center Court in Vegas.
20′ Pierce Spencer can shoot the cover out the basketball. Plays with some toughness and gets things done.
Mudiay Elite
20′ RJ Hampton is an electrifying scorer. Sound decision maker and is one of the top players in the country. Will he be the next Texas prospect to go to a Blue Blood?
2019 Tyreek Smith is an animal on the glass. Long, athletic and hasn't scratched surface of his potential. Choosing from 3-4 schools. More on his recruitment will be coming soon.
20′ Darius Miles looks every bit of the part. Still trying to figure it out, but in spurts looked like a top 10 player.
Curious case of 2019 Rodrigo Soares. Receiving D1 interest, but athleticism is a knock. Has mature, grown mans game and is a reliable scoring option.
3D Sports Bizness
Night and day in comparison to 2019 Sam Freeman's game from this time last year to now. Freeman is starting to figure it out. Vegas he was up and down but at the Lonestar Classic on Sunday, was an monster in the paint.  Minnesota, Old Dominion, TCU, UNT, Houston, UTA, LA Tech have offered according to Freeman
Can't leave 2019 Max Abmas space to shoot it. Abmas has shown he can run the point, hold his own defensively as Navy and Oral Roberts offered in July.
2019 Terrell Williams was a very dependable producer for 3D. Has visited UTA, we expect a D1 program to pull the trigger during the scholastic season. Teammate Jonathan McGhee is also intriguing. Tough, rebounds well for position and offensively further along than given credit.
TJ Ford – Austin
Effort is a key piece for a big man that will translate to success. 2019 DJ Thorpe in July played with a lot more effort as he imposed his will in the paint. Kansas State, TCU, Cal-Berkley, Texas A&M and Tennessee are in the mix, but the Volunteers appear to be front-runners.
2019 Quinton Ford can put the ball through the hoop. Talented two-guard holds offer from Northern Colorado & UTA.
Another talented scoring guard is 2019 Zach Taylor. He commands attention from defenses, scores in bunches and should see recruitment pick up. Big school season ahead for Taylor.
Edited by AB