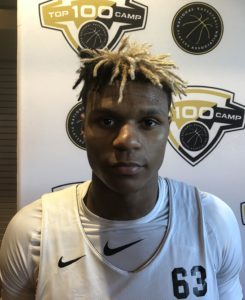 Day 2 of the NBPA Top 100 Camp was a good one for a majority of Texas prospects. Thursday was a coming out party for 2019 Wing Donovan Williams and we break down the 12 prospects that played at the John Paul Arena. 
Donovan Williams' Stock Trending Upwards
The second day of the NBPA Top 100 Camp, The Ft. Bend Elkins product was the top performer out of all the Texas prospects. Williams has great length and his two-way production was on full display. Williams is in the conversation in the TBB office as a top 10 player in the class. 
Will Baker, Drew Timme Performed
We mentioned how Will Baker is possibly mirroring his performances from last year's presentation at John Paul Jones Arena and we might be on to something. After a so-so day on Wednesday, on Thursday Baker played with more confidence and produced a 11 pt 10 reb double double at the night cap game. Baker has a lot of ability but sometimes can leave you wanting more after he plays. When the Westlake big man is assertive, he makes a lot of things happen on the court. Timme averaged 8 points and 6 rebounds on Thursday as he has been a steady, productive performer at the camp. The JJ Pearce forward is skilled and has been rebounding at a high rate which has been most noticeable. 
Jahmius Ramsey, Tyreek Smith's Energy
What can't be denied is how hard and brass Jahmius Ramsey and Tyreek Smith play. Ramsey is playing with a sense of urgency, constantly looking to put pressure on the defense and mixing it up inside, playing physical amongst the bigs. Tyreek strung together a 12 pt 6reb performance in which he was changing shots in the paint, finishing above the rim and seemed to have made a play on every possession he was in. 
Above the Rim With Greg Brown
Greg Brown is arguably the best prospect at the camp and the high flying forward for Team Faith anted up his play a notch. Brown averaged 15 points 6 rebounds on Thursday. Greg imposed his will and has been a standout in Charlottesville, VA. 
Avery Anderson, 2019 PG – Los Angeles Lakers: Avery Anderson averaged 5 points 3 ast 2stls a game on Thursday. Anderson continues to showcase his high level scoring ability and has been very solid at the point position. 
Sahvir Wheeler, 2019 PG – Golden State Warriors: Wheeler has been racking up on the steals department averaging a little over two of them a game. Wheeler averaged 6 asts a game on Thursday and has done a great job getting his teammates involved. 
DJ Thorpe, 2019 C – Houston Rockets: A very quiet day for DJ as he hasn't put his imprint on any games yet. Thorpe is very talented and can use these last two days as a mulligan. 
Chris Harris Jr. – Boston Celtics: Harris didn't torch the nets like he did on Wednesday but Harris still put together two sound performances averaging 9 points and 2 assists. Harris has showcased his ability to knock down shots and make plays.
Grant Sherfield, 2019 PG – New York Knicks: Sherfield put together an 11 pt 4 ast outing at his afternoon game on Thursday. He struggled to find a rhythm in the second game but on Thursday was able to showcase his scoring prowess. 
Cade Cunningham, 2020 Wing – Miami Heat: Cunningham wasn't as aggressive on Day 2 than he was on Wednesday. Cunningham has a great feel for the game and is versatile but didn't impose his will. 
Edited By AB