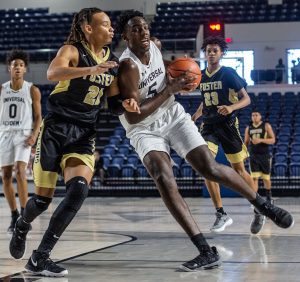 The number one prospect in the 2021 class on Texasboysbasketball.com, Arthur Kaluma talks to TBB about summer expectations, recruitment & more.

Kaluma will suit up for Nike ProSkills on the 17U EYBL Circuit but this will be familiar territory for the swingman from California.

"I feel like I'm at an advantage because I know what to expect coming in. The games are fast, physical & you have to bring it all the time," Kaluma said. "I've prepared myself for this and I'm ready for my team to have success this summer."

In his preparation, the scholastic season was a coming-out-party of sorts for Kaluma, who played a major role for Universal Academy. UA reached the 6A Trinity League Championship Game and Arthur this past season showcased his versatility on the offensive end and emerging skillset.

Arthur tells us his offer list.

"Texas Tech, USC, Stanford, UNT, UofH, UNLV & Arizona State have offered me," Kaluma said. "Schools that have shown interest are SMU, TCU & San Diego State."

Note: Kaluma's older brother Adam Seiko plays for San Diego State

"Texas Tech have been constant with their recruitment, sending letters to the school, house, coming to see me play. They have been pursuing me the hardest."

Kaluma talks about his rise as a premier prospect in 2021 and the recruitment process.

"It's definitely a journey. A lot that comes with it. A lot of coaches have came to see me, reach out and honestly my parents hid my offers at first so my head wouldn't get too big," Kaluma said.  "I always wanted to be this good and get recruited like this but i didn't know if I would. I knew if I worked hard enough it'll all work out but All Glory to God!"

Be sure to follow the staff at Texasboysbasketball.com as we stay up to date on prospects, top events and more. We will be keeping tabs on Arthur's recruitment as he has a chance to be a big-time national player by summer's end.