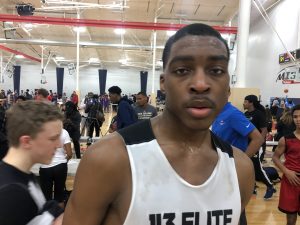 In the past 14 Days, the TBB staff has been on the road…. and I mean on the road! From San Antonio, to the Bayou City (Houston) and spent some time in Missouri. It's apparent we've logged a vast amount of miles but consequently, that means we have a immense amount of information coming your way. Our recruitment notebook takes a look at the top performers from Houston at the UIL State Tournament and the Spring Ice Breaker.

2019
– Calvin Solomon displayed a versatile offensive skillset. A grab and go candidate, sound passer and was key in Klein Forest making it to the 6A State Championship.
– Holds an offer from TSU & SFA
– Hearing from Illinois, LA Tech, Sam Houston
2020
– Stephen Faramade for Texas Elite Mel is a physical presence in the paint. A double-double candidate that interest from HBU. Plans to take an official this spring/summer.
– Talking about a big, physical presence. Houston Defender's Eddie Lampkin has slimmed down and imposed his will inside. Been hearing mainly from TCU, Georgetown, LSU, Baylor and plans to take an official to Georgetown. Missouri has recently shown interest.
– 20' Hayden Hefner game has taken a leap. Thrived in the open court and has improved as a 1on1 shot creator
– Hayden has been hearing from Clemson, Notre Dame, Texas Tech, Iowa State, Colorado St. & Colorado
– Plans to take an unofficial to Colorado & Colorado State
– Prior to his injury in the semi's at the UIL State Tournament, Rubin Jones of Houston Yates/Cooz Elite was a producer in multiple box-score stats in San Antonio.
– Connecting on the long ball, finished around the rim and was quintessential in the Lions success during the scholastic season.
– Holds offers from UNT & UTEP
– Have been contacted by UH, UTSA Minnesota, VCU, Oregon St, Baylor, TCU, SFA, Sam Houston, American University, University of Louisiana-Lafayette, Lehigh, Colorado, Colorado St, Kansas St, Rice, Nebraska, Oral Roberts.
– Nate Martin for the Houston Hoops showcased a sound inside/out game blended with a toughness he competed with.
– Expect his recruitment to pickup this grassroots season.
– Holds offers from Houston, Oral Roberts, Texas State.

2021

   – Javier Francis for JL3 is furnished with freakish length. A top 5-7 talent in the state of Texas.
– holds a Texas A&M offer
– Has taken visits to Aggieland & UofH
– Francis' teammate at JL3, Griffin Datcher helped his stock immensely. Strong, athletic slasher that hits shots once his feet are set.
– Interest: Iowa, Texas Tech, Stanford
– Has taken visits to Baylor and UofH


Standouts
LJ Cryer, 2020 PG – Houston Hoops: Was the best guard in the gym regardless of class. Possesses a gift for scoring but also is very capable of running an offense.

Bryce Griggs, 2022 PG – Team Harden 16U: Griggs sure does have a knack for scoring the ball. A crafty, scoring guard the shouldered the offensive load and led Team Harden to a 2-0 record on Sunday.

Valentine Catt, 2020 C – Houston Defenders: Valentine has made some strides in his game. The most eye catching play was when he comfortably took and knocked down a mid-range J in transition. Now that's not his strength but the rim running, shot-blocking big man has a better understanding on how to play.

PJ Neal, 2021 PG – Houston Hoops 16U: Neal is a steady driver of the car. Advances the ball, holds plus vision as his size mixed with lateral mobility allows him to defend multiple spots.

RJ Keene, 2021 Wing – Houston Hoops 16U: Holds a flamethrower from deep. Keene is a versatile shooter that plays with constant effort. One of the top 2021 performers from the Spring Ice Breaker.

PJ Haggarty, 2022 PG – TJ Ford: We've been high on PJ Haggarty at this camp. A saavy guard that can score in consecutive fashion. Avg. over 20pts a game this pst weekend.

Kharee McDaniels, 2019 PG – Klein Forest: The UCO Commit was a big-time performer. Knocking down clutch shot after clutch shot. The quick guard out of Klein Forest got to his spots and played efficiently on the offensive end.

Bruce Scott, 2019 Wing – North Shore: A bruising, powerful wing that was executing on shots from deep. Helped his stock with performance against Duncanville at the Alamo Dome.