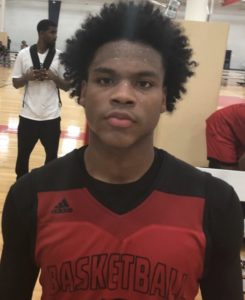 The staff at texasboysbasketball.com rode down I45 to Houston, Tx for "The Platform" presented by Rossi Carron of University Sports. In the event's second year of existence, "The Platform" this year provided a plethora of major match ups that allowed TBB to get a strong look at the division one prospects from multiple states. In the first segment, we handout our awards from a talent filled event at the MI3 Center.
The Set Up Man Award
Sahvir Wheeler, 2019 PG – Basketball University: "The Conductor," The Texas A&M Commit set up his teammates for open looks all weekend as the savvy guard continues to make a major impact in games without having to score.
The Who is That? Award
Ty McMillan, 2018 PF – Basketball University: The high flying forward performed like he had a chip on his shoulder. The staff haven't seen Ty play with this much passion and toughness. The unsign senior could possibly prep but is a prospect that does a possess a game that definitely translates to the collegiate level
Biggest Stock Booster
Jalen White, 2020 SG – Houston Defenders 16U: Ever hear someone say, "he scored a quiet 20 points" well Jalen White is one of those players that does that. White is a quiet kid, that plays with a calm demeanor and possess a smooth game. White generated multiple "quiet" double digit performances and has a chance of being a top 25 player in his class.
Best Sophomore Award

Jamal Shead, 2020 PG, Urban ASAK: Mr. Alan Branch has a saying "Let him play up against the fire and eventually he will be the fire," and tracking 2020 Jamal Shead in the past two years, he played against the fire and now has become the "fire." Shead accumulated 14 second half points in a comeback win for Urban ASAK against Team Harden as he put his team on his back in crunch time.
Bucket Getter Award
Tyrone Henry, 2019 PG – Cooz Elite: Henry had the highest scoring outing at "The Platform" with 39 points in a loss against Urban DFW. Henry couldn't be stopped getting to where he wanted on the court as the talented guard from Shadow Creek put on a show on Sunday.
Marcus Sasser, 2019 CG -Urban DFW: Talking about putting on a show, Sasser put on a scoring clinic against Basketball University. Sasser put together a 29 point performance and only remembering him missing no more than four shots. A top 35 prospect in his class. Sasser will see ups-tick in his ranking.
Edited by AB