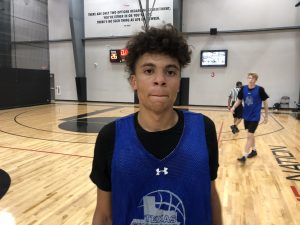 2nd Edition of the Lonestar Top 100 Camp Evaluations, we dive in on the 2-Guard's & 3-Men that highlighted the camp. These positions boasted strong positional size and guys with promising upside. 
Lav Cvetkovic, 2021 SF/SG – Spring Creek: Showcased sound offensive game when operating on the wing. Capable shooter from deep, attacked closeouts and finished with elusiveness around the rim. Big-time positional size.
Jayden Patcha, 2020 SG/SF – Cypress: High motor wing that made plays off effort. Threat in open court as ballhandler & finisher. 
Jean Dodard, 2021 SF – Keller: Shot it at a high clip this past weekend. Release is cleaner albeit still needing some work but Dodard showed reliability as an off the catch shooter & versatile defender. 
Luke Smith, 2022 SF/SG – Flower Mound Marcus: Prospect with good IQ and holds promising length. Smith showed flashes as a playmaker off the wing and could see him being a steady contributor for his varsity team this season.
Isaac Jackson, 2020 SF – Lapoynor: Active, athletic 3-man that finished above the rim in transition. A decent jumpshooter at this stage but utilized quick first step to get by defender and finish. 
Ian Motta, 2021 SF – Allen: Top performer at the camp. Motta is a good athlete that knocked down shots from deep. Impressed with weak-side shotblocking capabilities & and an out-of-area rebounder. Game translates to the division 1 level. 
Patrick Caero, 2021 SF – Trinity Valley School: Compiled multiple solid performances on Saturday. Hit open shots & active on the glass. 
Notables
Haylen Mattizza, 2020 SF – Midlothian:
Trent Lacewell, 2021 SG/SF:
Micah Moss, 2021 SG – Homeschool
Bryson Smith, 2022 2/1 CG – Mesquite Horn: