We are just under a week away from the Nike EYBL Peach Jam, class of 2023 top 60 recruit R.J. Jones is ready to put the world on notice. 
The 6-foot-3, 175-pound guard out of Aubrey (TX) is ready to showcase his full offensive skill set and defensive upside. 
"I want to showcase that I'm not just a spot-up shooter and that I'm a basketball player meaning that I can do everything on the court including shoot, finish, defend, play make, and rebound when people see that I think they will start to look at me a lot more. As a basketball player, I want to progress always on the mechanisms of defense and showcase my ball-handling skills a lot more."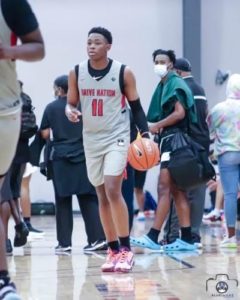 Jones is having a solid summer. He has picked up USC and St. Louis offers. With several other power-five schools calling as well.
He broke down each school and talks about potential visits for texasboysbasketball.com
He said. "We don't have any dates set at the moment I am talking to Oral Roberts, Texas Tech, Texas, and USC about going on unofficial visits."
Texas: "They plan on using me as a good point guard that can get the offense set but also utilize my skillset to get a bucket when they need one."
Texas Tech: "Plan on as a great scoring guard that has the ability to go get a bucket whenever they need one."
USC: "Same thing as Texas but with a lot more on the ball type of stuff
Tulsa: PG that can score and get everybody going to make sure that there is a great flow in the offense." 
TCU: "PG that plays like Mike Miles to be able to score and get the offense moving fluidly."
St Louis: "PG that has the green light to shoot but also feed other people whenever they get going."
Despite not being ranked on Rivals top 100, Jones did come in at the #53 spot on ESPN rankings last week. Regardless of the rankings, Jones has a chip on his shoulder.
"It put a huge chip on my shoulder. I want to be on that list and I mean like top 10 so when I step on the court I will always put my best foot forward and showcase my talent to coaches, scouts, and other players."
Jones will be playing in the Peach Jam for DriveNation, alongside other highly touted recruits such as K.J. Lewis, Ronald Holland, and Justin McBride. Jones has high expectations for his team.
"Expectations for me and my team is that we all come out with our best foot forward and we all come out with high intensity from the jump, if we do that everything will start to flow into motion."
As Jones continues to have a great summer, he reflects on his Pangos camp experience.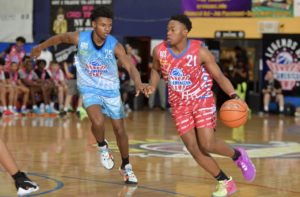 "The Pangos experience was great, in fact, I'll be going to California on July 8 for a Pangos event. But the Pangos experience is a great community to be around because everybody is here to showcase their talent and if you don't perform you have a chance of losing your spot in rankings. But all around Pangos is a great environment to be around especially when you make that top 30 game."