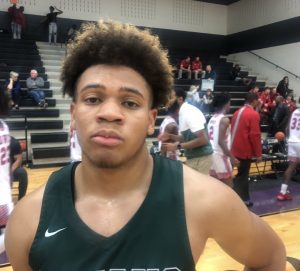 Stock-riser has been appropriately coined for  Waxahachie product CJ Noland as his production in the scholastic season has upped his recruitment. The stocky, strong built guard has strung together high-level offensive outputs this season and deservingly pegged as one of the top guard prospects in the 2021 class. He talks to TBB about his performances and recruitment.
"I've been able to show I can hit shots and lead. We're looking to make a statement run this season and the hard work I've been putting in is starting to show on the court."
Noland's offer sheet includes Oral Roberts, UIC, UNT, Sam Houston, UTA  and more recently from SMU & Colorado State. He holds interest from Kansas State and Vanderbilt as well.
Speaking of the latter two programs, both have been heavily recruiting him as well along with Colorado State.
The Breakdown
Colorado State: "(Assistant) Coach Ali (Farokhmanesh) reaches out to me twice a week. I plan on taking an official visit there after the season. They let their guards play so it's definitely a school I really like."
Vanderbilt: (Assistant) Coach (Adam) Mazarei and I talk a couple times a week. I will take an official visit there as well during the spring. They play in the SEC and I would love to play in the SEC."
Kansas State: Kansas State has been reaching out for some time close to 2-3x a week. (Assistant) Coach Brad Korn is the one recruiting me. I'll definitely take an official (visit) there and I can see myself playing there."
Analysis
Noland has taken a few unofficial visits, such as with UNT in the fall, also has been present to a few UTA games and was present in Texas A&M's matchup vs South Carolina. He plans to take an unofficial to SMU possibly in near future.
We project CJ to follow up a strong scholastic season with just as powerful club season. He's tough, possesses good feel and a combination of athleticism, strength and sound vision makes him a menace in the open court.  It's too early to tell where his collegiate destination is but there's a few tidbits to add
-One school he wants recruiting is Alabama
-Kansas State is his father, Belvis Noland's alma mater where he played his last two seasons from 1993-1995.
-He eyes making a commitment in the latter end of the summer.
We will continue to keep track of CJ throughout the season so stay tuned at texasboysbasketball.com for news & notes.